EVOLUTION VIII-IX
>
4G63 ENGINE PARTS
>
MOROSO EVO 8/9 WET SUMP OIL PAN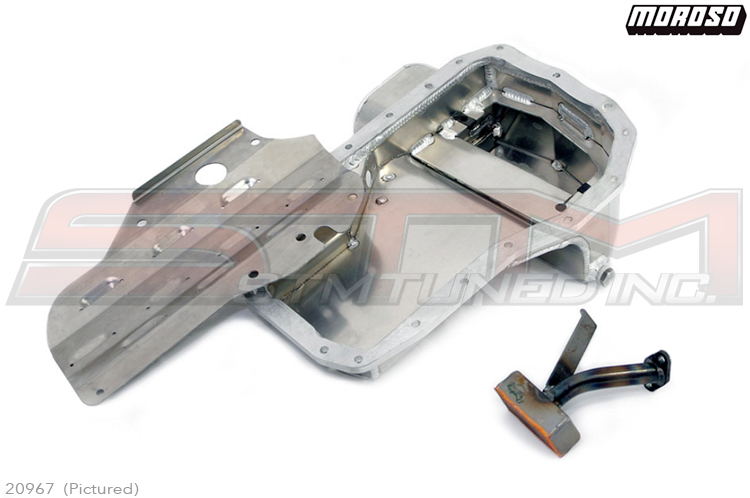 Moroso Evo 8/9 Wet Sump Oil Pan





Fits these Applications:
2003-2006 Mitsubishi Lancer Evolution VIII-IX



STM Price: $625.05





Part Number:


20967 (Pictured)



The Moroso Evo 7/8/9 Wet Sump Oil Pan is designed to keep oil where it needs to be even in the most severe racing scenarios. The stock oil pan for the Evo did not take into account the effects that sustained high speed turns or acceleration can have on the oil. During these situations oil can be pushed to one side of the pan causing vital engine components to be starved of oil.

The Moroso Wet Sump Oil Pan will not only accommodate another 1.5 quarts of oil but by using a trap and kick outs, it enables oil to stay where it is needed. The added capacity and aluminum construction have the added benefit of keeping the oil cooler. The Moroso wet sump pan is a must for every type of racing.





Features:


100% 6061 aluminum construction. Hand TIG welded
Additional 1.5 quart oil capacity over stock
Front kick out area to allow for more oil capacity
Integrated Trap door preventing oil from shifting during lateral acceleration
3/4" deeper than stock pan Custom oil pickup
Integrated crank oil stripper
Complete bolt on with no other modifications needed
Bolts right up the factory or aftermarket oil return lines
Adds more clearance for factory and aftermarket downpipes
Unrivaled fit and finish





Includes:


Oil Pan
Oil Pan Baffle Plate
Pickup
All necessary mounting hardware





Install Notes:


This item does not work with a stock lower ic pipe.
The Moroso Oil Accumulator can used with this oil pan also.
Every engine block is different. Some clearancing may be necessary due to the difference in stroke and rod sizes in various Evo engine combinations. Test fit ALL pieces before installation and be aware that some minor grinding may be necessary. Do not use any pre-made gasket with this pan use RTV similar to what came from the factory.







STM TERMS & CONDITIONS