UNIVERSAL PARTS
>
ENGINE & LUBE
>
ARP ULTRA-TORQUE FASTENER ASSEMBLY LUBRICANT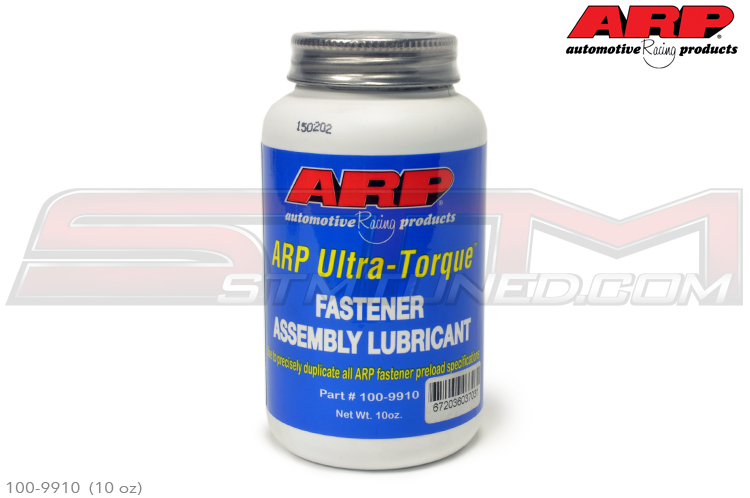 ARP Ultra-Torque Fastener Assembly Lubricant
(.5oz, 1.69oz, 10oz and 20oz)

Fits these Applications:
Universal Product



STM Price: $1.64 - $30.52 (Scroll down for all purchase options.)





ARP Ultra-Torque Fastener Assembly Lubricant gets you within 5% of the required pre-load on the first pull and stays consistent with each subsequent cycle-race prep, machining, pre-assembly and final assembly. Premium grade moly base with rust and corrosion inhibitors.

Effective lubrication range -30° to 550°F, with a load range of 500,000 psi.





Features:


Eliminates preload scatter
Remains consistent on every cycle
Resists fastener loosening
Saves Time - no need to re-torque 6+ times
Maintains consistent clamping force
An absolute "must" for any serious engine builder



Today's critical head studs and bolts, main studs and bolts, and driveline have been designed stronger than ever before to handle the extreme loads. As a result, installation pre-loads, the amount the fastener is stretched during installation, are very high.

There are a lot of opinions out there about which fastener assembly lube to use and what the torque value should be. First, let's be clear: ARP provides torque specs for their fasteners based on using ARP Ultra-Torque. If you're not using ARP specs and ARP lube, you have no real idea what pre-load you're getting. ARP has done the testing where they can measure the torque applied and the resulting pre-loads. They've tested with ARP lube and the lube others use... and ARP has the results to back it up.




ARP Ultra-Torque Fastener Assembly Lubricant
IMAGE
SIZE
PART#
PRICE



STM TERMS & CONDITIONS