UNIVERSAL PARTS
>
WHEELS & TIRES
>
EVS TUNING BURNED TITANIUM LUG NUTS (M12 x 1.5 & M12 x 1.25)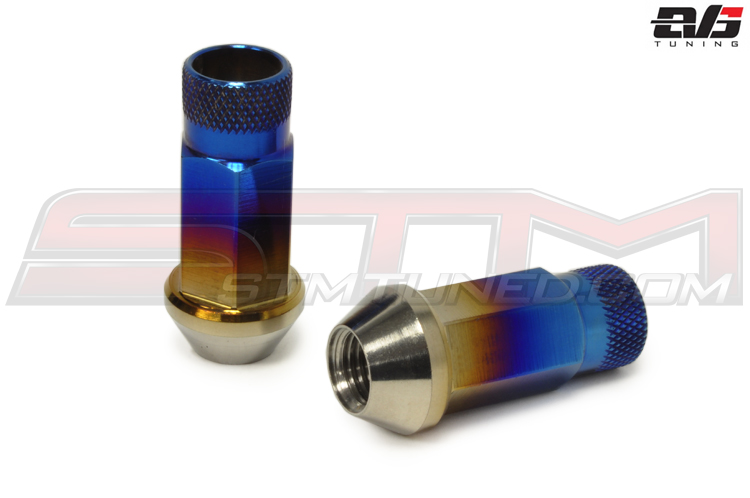 EVS Tuning Burned Titanium Lug Nuts





STM Price: $285.00




MSRP: $299.00



M12 x 1.5
2016 Focus RS
2003-2015 Mitsubishi Lancer Evolution 8/9/X
1990-1999 1G & 2G DSM (Eclipse GST/GSX, Talon TSi & Laser)
1991-1999 Mitsubishi 3000GT & Dodge Stealth TT
Also fits many other applications

M12 x 1.25
Fits R35 GT-R, 350Z, 370Z and most Nissan
Fits WRX, STi, BRZ, FR-S and most Subaru
Also fits many other applications




EVS Tuning Titanium Lug Nuts are CNC machined and weigh only 24 grams per lug nut. The lugs are then torched by hand to create a blue gradient finish. These lugs are 45mm in length from top to bottom. These lugs can be installed and removed by using a regular 17mm hex socket.



Features:


- CNC-machined titanium construction
- 48mm in length (top to bottom)
- Weighs only 24g per lug nut
- 17mm hexagonal slim shaft
- Conical tapered seating



Includes:


Set of 20 Nuts

NOTE: LUG NUTS ARE MADE WITH TAPERED BOTTOMS SPECIFICALLY FOR AFTERMARKET WHEELS. DO NOT USE THESE TUNER LUGS FOR YOUR FACTORY WHEELS. WE NO LONGER ACCEPT RETURNS ON LUG NUTS FROM CUSTOMERS WHO ATTEMPT TO USE THEM ON FACTORY WHEELS. THESE LUGS ALSO DO NOT FIT ON SPECIAL WHEELS THAT REQUIRE INVERTED LUGS. WE WILL ALSO NOT ACCEPT RETURNS FROM CUSTOMERS THAT TRY TO USE THEM FOR THESE TYPES OF WHEELS.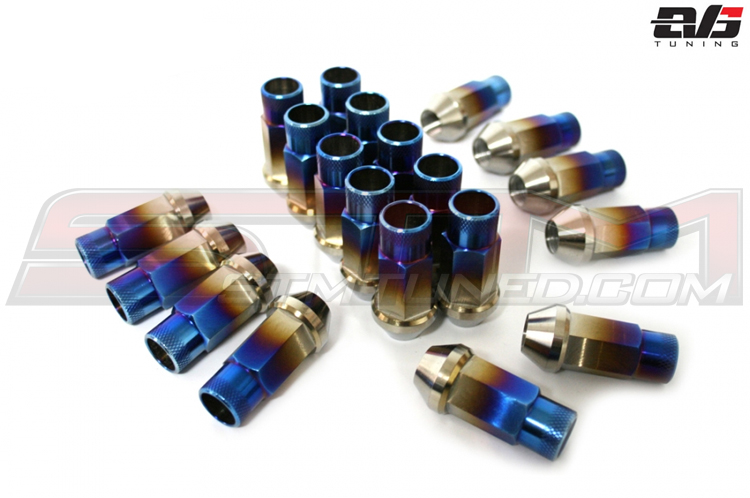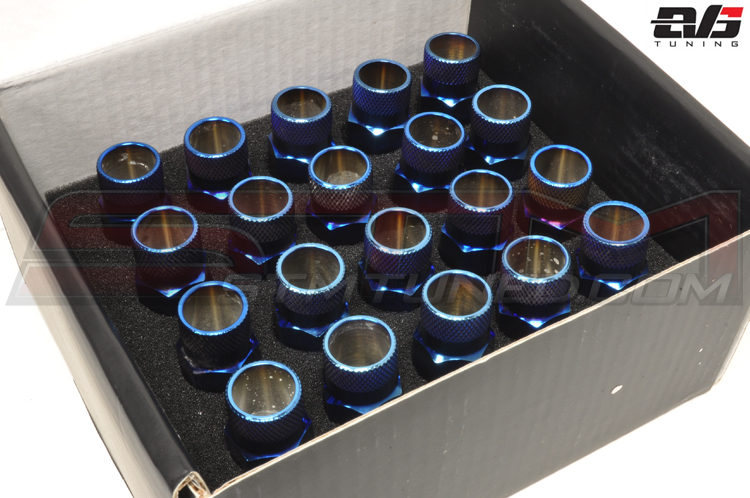 STM TERMS & CONDITIONS