DODGE
&
FORD
&
MITSUBISHI
&
NISSAN
&
SUBARU
>
HAWK HPS HIGH PERFORMANCE STREET BRAKE PADS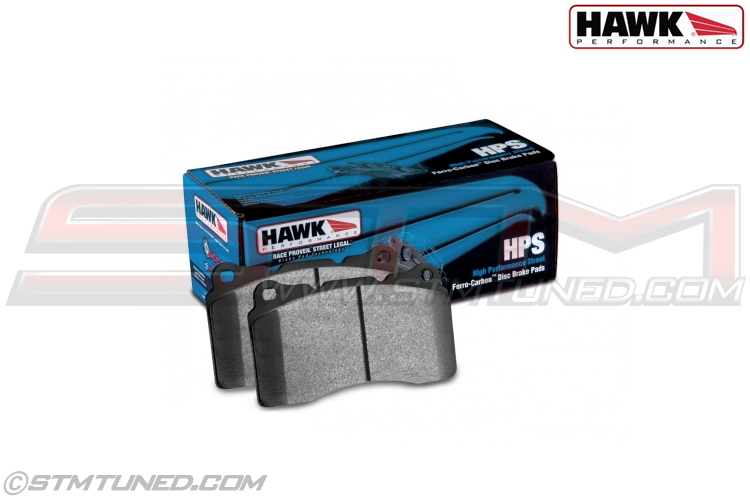 Hawk HPS High Performance Street Brake Pads.



Available for these Applications:
Dodge Viper
Ford Focus ST
Mitsubishi Evo 8/9/X, DSM & 3000GT
Nissan GT-R, 350Z, 370Z
Subaru WRX, STi, BRZ




STM Price: $71.02 - $200.30





Superior Stopping Power for the Street!

HPS High Performance Street disc brake pads are world renowned for increasing stopping power on your street legal vehicle. Increasing the performance of your vehicles braking system is easy when you choose Hawk Performance's HPS braking compound. This unique Ferro-Carbon formula was developed for street performance using the safety and quality of Aerospace and Motorsports severe-duty friction technology.

The High Performance Street compound offers a higher coefficient of friction over stock brake pads and can provide you 20-40% more stopping power and higher resistance to brake fade than most standard replacement pads. Less fade means you will have a highly durable brake pad with less brake dust.

All Hawk Performance High Performance Street brake pads provide a limited lifetime warranty, ensuring products to be free of defects from manufacturer's workmanship and materials.

Note:
Hawk Performance burnishes its High Performance Street brake pads as a final step in the factory, but all brake pads have to be bedded-in with the rotors (new or used) that they will be used against. Properly bedding-in new brake pads results in a transfer film being generated at the pad and rotor interface to maximize brake performance.

- Heat Range: 60-750°F
- Increased stopping power
- High friction/torque hot or cold - Gentle on rotors
- Extended pad life
- Low dust
- Virtually noise-free
- Ideal for import and domestic automobiles





Pictured Below: (HB453F.585) HPS Front Pads for Evo 8/9/X, STi and black caliper Viper.

HB453F.585,HB180F.560,HB615F.535,HB545F.564,HB193F.670,HB650F.730,HB711F.661
HB120F.560,HB673F.602,HB201F.620,HB214F.618,HB213F.626,HB367F.585,HB352F.665
HB432F.661,HB700F.562,HB434F.543,HB452F.545,HB179F.630,HB557F.545,HB387F.547
HB268F.665,HB370F.559,HB601F.626,HB602F.545,HB600F.539



STM TERMS & CONDITIONS