AUDI
|
BMW
|
DODGE
|
HONDA/ACURA
|
MITSUBISHI
|
NISSAN
|
PORSCHE
|
SUBARU
KW COILOVER KIT V1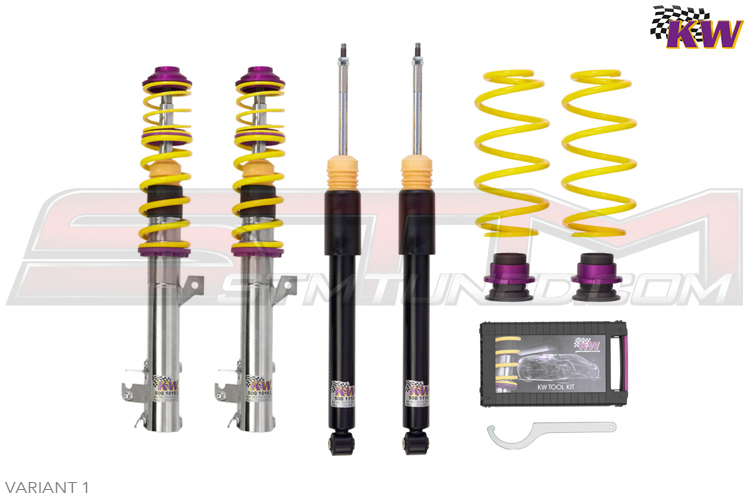 KW Coilover Kit V1



Available for these Applications:
Audi, BMW, Dodge, Ford, Honda, Acura, Mitsubishi,Nissan, Infinity, Porsche and Subaru Models.



STM Price: $1,232.49 - $2,269.49 (Scroll down for all purchase options.)





KW Variant 1: Sporty & Balanced.

With KW factory pre-set dampening, this is the ideal system for customers who like to choose the lowering of their vehicle while counting on the extensive driving tests of the KW experienced engineers who have preset the dampers for the ultimate balance between sporty driving, comfort and safety.





Features:


- Optimally pre-set
- Sporty harmonious damping technology
- Stainless steel technology "Inox-Line"

*


- Individually height-adjustable
- Lowering range approved by the German Technical Control Board (TÜV)
- Fully finished complete solutions
- High-quality component parts for long durability





*

"Inox-Line" Not for suspensions with spring strut modification (exchanged struts), these are only available in zinc-plated steel.





Notes:


Images are for reference. Each kit will vary by vehicle.
Click the PDF Link for vehicle-specific install instructions.




KW Coilover Kit V1
IMAGE
VEHICLE
FITMENT
KW PDF
INSTALL
PART#
PRICE
Audi
BMW
Dodge
Ford
Honda / Acura
Mitsubishi
Nissan / Infinity
Porsche
Subaru



STM TERMS & CONDITIONS