AUDI
|
BMW
|
DODGE
|
HONDA/ACURA
|
NISSAN
KW COILOVER KIT V2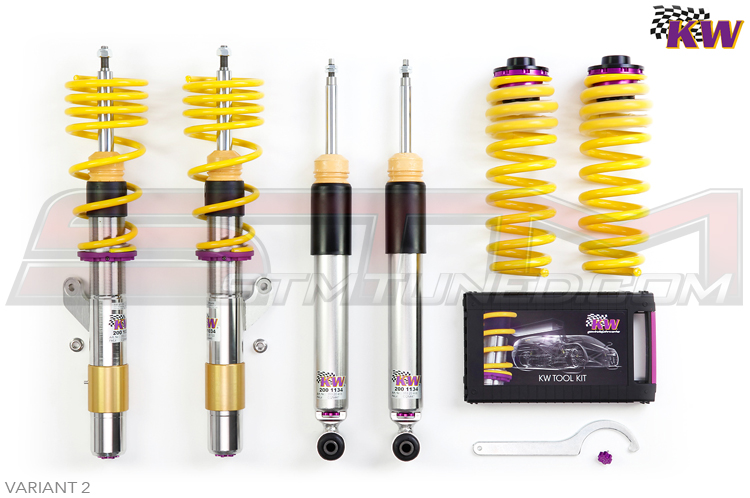 KW Coilover Kit V2



Available for these Applications:
Audi, BMW, Dodge, Honda, Acura, Nissan, Infinity and Subaru Models.



STM Price: $1,699.99 - $4,319.99 (Scroll down for all purchase options.)





KW Variant 2: Sporty and personalized with adjustable rebound dampening.

This system intended for the experienced driver who does not only wish to determine the individual lowering of his vehicle, but also wishes to carry out setup adjustments. The adjustable rebound damper allows adjusting the pitch and roll behavior of the vehicle and therefore the driving pleasure can be adapted to their own requirements.





Features:


- Damping technology with individually adjustable rebound
- Stainless steel technology "inox-line"

*


- Individually height adjustable
- Adjustment parameters approved by the German Technical Control Board (TÜV)
- Fully finished complete solution
- High-quality components for long durability
- Comprehensive documentation for easy use





Rebound Damping:


The rebound adjustment can be installed via an adjustment spindle at the piston rod end, as far as it is vehicle-specifically possible.

The rebound damping primarily controls pitch and roll of the vehicle, especially in the low speed damping range which directly influences handling and comfort.

Therefore vehicle can be adjusted to the needs of the driver, making the ride variable from comfortable to sporty and stiff, both with improved road handling.



*

Not for suspensions with spring strut modification (exchanged struts), these are only available in zinc-plated steel.





Notes:


Images are for reference. Each kit will vary by vehicle.
Click the PDF Link for vehicle-specific install instructions.




KW Coilover Kit V2
IMAGE
VEHICLE
FITMENT
KW PDF
INSTALL
PART#
PRICE
Audi
BMW
Dodge
Honda / Acura
Nissan
Subaru



STM TERMS & CONDITIONS