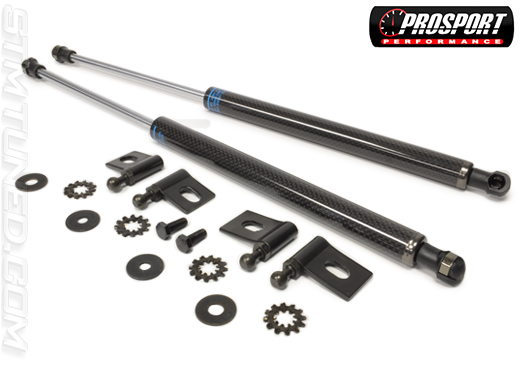 Prosport Carbon Fiber Hood Dampers.

- Evolution VIII-IX (Pictured) HD-MITS.EVO 7,8,9
- Evolution X HD-MITS.EVO 10
- Subaru 2002-2007 WRX & STi (GDA/GDB) HD-SUBARU 02-07 GDA/B
- Subaru 2008-2009 WRX & STi (GDBF) HD-SUBARU 08-09 GDBF
- Subaru/Scion 2013-2014 BRZ & FR-S HD-BRZ-FRS
- Nissan 370Z (Rear Deck) HD-NiSSAN 370Z
- Nissan 350Z HD-NISSAN 350Z
- Toyota Supra MK-IV 93-98 HD-TOYOTA SUPRA
- Honda S2000 HD-HONDA 2000

The Prosport Carbon Fiber Hood Dampers are a complete kit which includes one pair of Black Carbon Fiber Hood dampers with stainless steel shafts and custom hardware. These are direct-fit, bolt-on dampers that allow you to ditch your hood prop or replace your boring stock dampers with real carbon fiber.

Average install time is about 15 minutes.