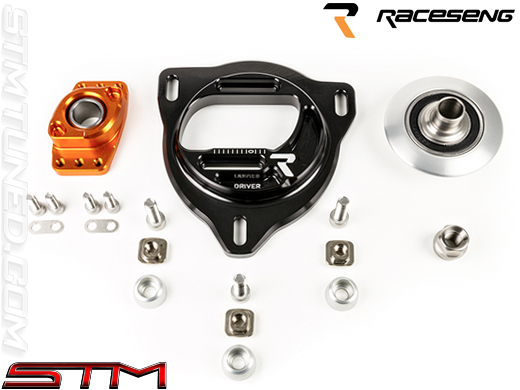 Raceseng CasCam Plates with Radial Bearing.

- Subaru 2002-2007 WRX & 2004 STi (GDB)
- Subaru 2005-2007 STi (GDB-F)
- 2013+ Subaru BRZ & Scion FR-S

The Raceseng CasCam Plates with Radial Bearings are the only under-mount style plate that allows for the separate adjustment of caster and camber. Bolting to the underside of the strut tower gives you the freedom to choose any top-mounting strut tower brace you desire.

Nothing but the best! Every component of the Raceseng Caster / Camber Plate is machined from 6061 T6 aluminum that was extruded in the U.S.A. The T-nuts are CNC machined from a steel alloy and then electroless nickel plated to prevent rusting. The camber slot washers are laser cut and brush finished from 304 stainless steel. All of the socket head cap screws are 18-8 stainless steel for corrosion resistance.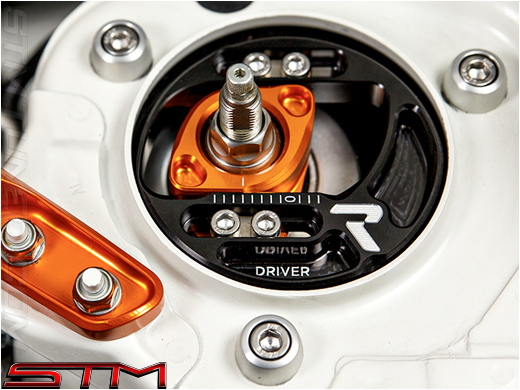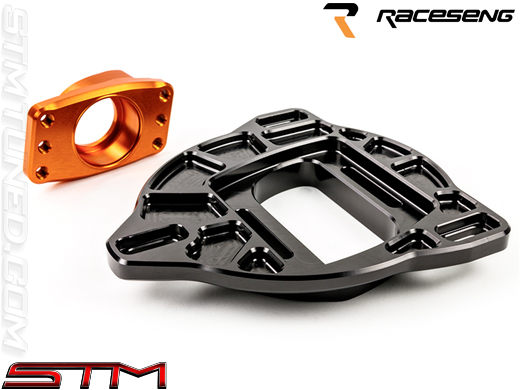 The structural elements of CasCam are precisely CNC machined from billet aluminum. We understand that every racer is concerned about weight and we take every opportunity to shave weight wherever possible without sacrificing strength. The bearing housing threads are roll-formed not cut to further prevent stripping and consistent torquing.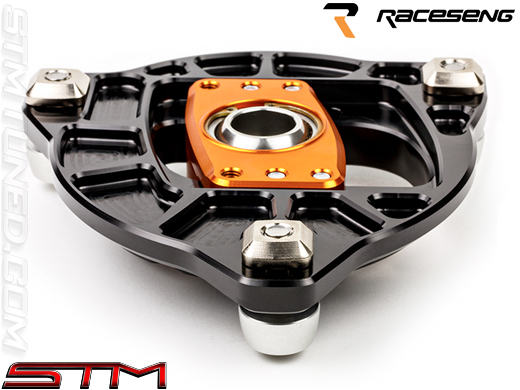 The camber plate was designed with a thick cross section which enabled us to move the CasCam bearing housing up into the open area of the strut tower. Tucked into the thicker camber plate, a machined pocket holds the housing in place without sacrificing strength or rigidity. By doing so, we gained the space needed to move the rest of the components up into the car; which, in-turn, lowers your car and gives you the adjust-ablility for race and/or style.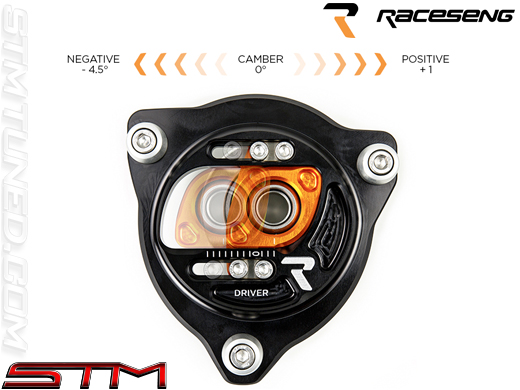 HOW TO ADJUST CAMBER?
Once the load is off the suspension, loosen the 4 bolts holding the bearing housing in place. Adjust positive or negative camber by sliding the bearing housing. Tighten and torque the 4 bolts, and get back on the track!

MIN / MAX CAMBER SPECS
CasCam is generally capable of getting - 4.5° of negative camber gain and + 1° of positive camber (+/- .5°). Please note that the amount of negative and positive camber is dependent upon your application.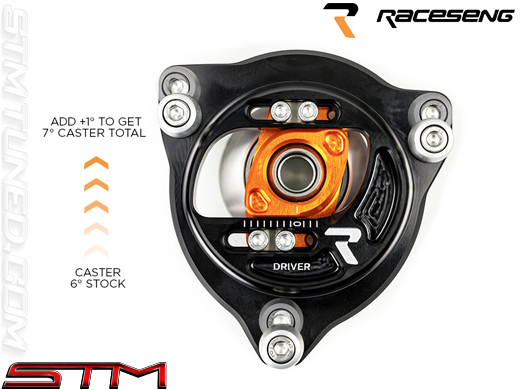 HOW TO ADJUST CASTER?
While the front of your car is lifted, loosen the 3 outer bolts on the strut tower that hold the plate in place. Starting at 0° (or all the way forward), slide the plate backwards to add positive caster. Re-torque the three bolts and get back on the track!

MIN / MAX CASTER SPECS
CasCam is capable of getting an additional 1° of positive caster gain which would yield a total of 7° of positive caster. You can also fully adjust the caster back to the stock setting which is 6°.
xxxxxxx