EVOLUTION 4/5/6
|
EVOLUTION 7/8/9
STM EVO IV-IX 2.0L RACE BLOCK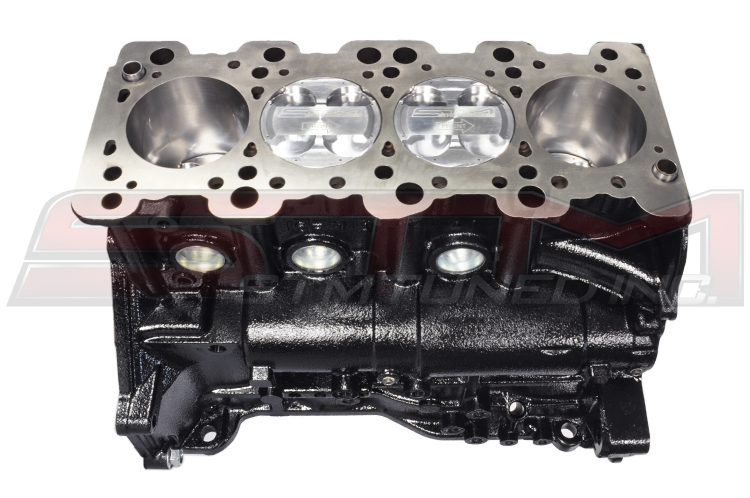 STM Evo IV-IX 2.0L Race Block



Fits these Applications:
1996-2006 Mitsubishi Lancer Evolution 4/5/6/7/8/9



STM Price: $3,500 - $3,900 (Scroll down for all purchase options.)





After months of testing and running multiple passes deep into the 9's at over 160 MPH with full weight street cars we are pleased to announce the release of the STM Evo 8/9 Race Block!

Track and dyno tested to 10,000 RPM and 1000+ HP, this Short Block will come standard with the STM Custom, Gas-Ported Pistons and GRP Aluminum Rods. All STM Blocks will come standard with ACL Tri-Metal Bearings, ARP Main Studs, fully-balanced rotating assembly, magnafluxed crank, 1/2" NPT breather in balance shaft tunnel, OEM stub shaft and balance shaft bearings flipped for removal of balance shafts. Base price will require a good block and crank core to start.

As always, if you have any questions about your build, just give us a call. We are more than happy to help.





Required:


Good Virgin Engine Core and Crank (Never Machined)





Options:


O-Ringed (+$200)
Concrete-Filled (+$200)





Features & Specs:


2.0L Standard Stroke Short Block
Tested to 10,000 RPM and 1000+ HP
STM Custom, Gas-Ported 11.5:1 Pistons
GRP Aluminum Rods
ACL Tri-Metal Bearings
ARP Main Studs
Fully-Balanced Rotating Assembly
Magnafluxed Crank
1/2" NPT Breather in balance shaft tunnel
OEM Stub Shaft and Balance Shaft Bearings flipped for removal of balance shafts





Turn-Around Time:


Generally starting from when we receive the engine/crank core, turn around time is from 2 to 5 weeks depending on options. Concrete-filled blocks will be around the 5 week mark.





Shipping:


Shipping is not included in the price.
Please contact us at your convenience.

Shipping rates will vary depending on location. To keep rates fair for everyone, we prefer to handle the final pricing over the phone, one-on-one to confirm all details and engine specs and also for shipping confirmation of your used block and crank core.

Average shipping to the lower 48 US will be $150.00.




STM Evo IV-IX 2.0L Race Block
IMAGE
O-RINGED
CONCRETE-FILLED
PART#
PRICE



STM TERMS & CONDITIONS