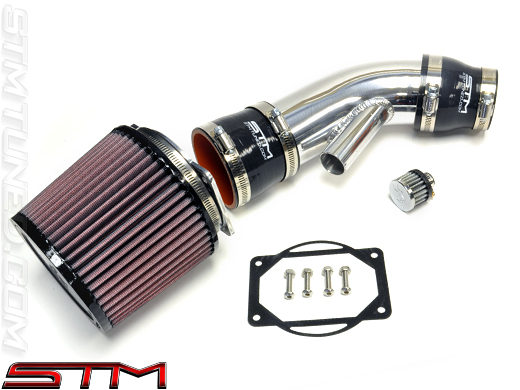 STM Evo 8/9 Stock MAF Intake Pipe Kit.

- Evolution VIII-IX

The STM Stock MAF Intake Pipe Kit is designed for your VIII-IX running the factory MAF sensor and will adapt to any stock-style blow off valve. The pipe will free up power and let your 4g63 breathe while giving your intake a bit more aggressive sound.

Included in the full kit is a K&N Breather Filter for your valve cover.

Choose the Vibrant air filter or a K&N Filter (pictured).

Our new design fits both Evo VIII-IX with or without ACD.

Includes:
- Tig welded, lightweight aluminum Intake Pipe
- Air Filter (Vibrant or K&N) with MAF Adapter
- 2.5"-3" STM Coupler (black)
- 3"-3.25" STM Coupler (black)
- Worm Clamps (x4)
- Stainless Button Head Bolts & Nuts (x4)
- K&N Valve Cover Breather Filter
- Mustang Dyno Graph: +13 HP on *Stock Evo

Part Number:
STM-EVO89-INTK-MAF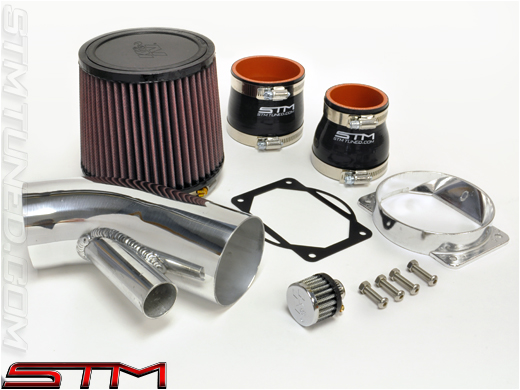 This comparision was done on our Mustang Dyno to a mainly stock 04 Evo with 120,000 miles (Walbro 255, Hallman, test pipe & ECU flash). Nothing was altered between runs.

STM Intake: Solid
Stock air box with K&N Drop-In: Dotted

Max increase in HP was +13 and the graph shows increases from 4,000 rpm all the way through... right where you want it!

Gains can be expected to be higher with more air flow and boost, of course.



OLD (STM-EVO-INTK-MF)