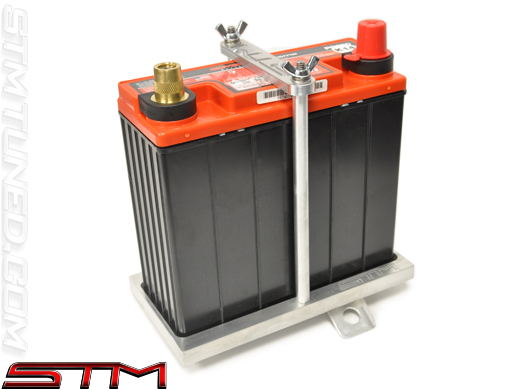 STM Small Battery Kits.

- Evolution VIII-IX

The STM Small Battery Kit for the Evolution VIII-IX is an essential upgrade, allowing you to not only shed the weight of the giantic, factory brick battery, but this modification clears the path for upper intercooler pipes. This is available with a brushed aluminum finish (pictured below) or the flashy, mirror polish and includes all necessary stainless hardware for a simple, bolt-in install, no drilling necessary.

If you already have a small battery kit and would like to upgrade to STM, just the battery tray is available with the stainess hardware, polished or with the brushed aluminum finish.

If you are serious about racing, and need to break some records with every advantage in the book... check out the 4 pound Lithium Pros C680 Lithium Powerpack to make your entire battery kit weigh about 5 pounds!

***Please note, we recently redesigned the base and mounting points. It is much smaller and only needs one mounting point on the engine side. The new style is pictured above and below, the old style pictured as installed.

- Stock Battery Weight: 37 pounds
- PC680 Kit: 15.7 pounds (Drop 21.3 pounds)
- C680 Race Kit: Just over 5 pounds! (Drop over 32 pounds!)
- Tig-Welded Aluminum
- CNC Engraved Plates
- Utilizes Existing Bolt Holes for Mounting
- Stainless Hardware
- Choice of Odyssey PC680 or Lithium C680 Battery
- Brushed Aluminum Finish or Mirror Polish (+$40)
- Made in the USA

Small batteries can fail if the posts are not torqued to 50 inch pounds! Additional torque will cause damage to your battery, so please be careful when installing.

Please note: While we, and most of the racing community, use these as replacement car batteries, these batteries are not intended for that use. STM does not warranty batteries. Please contact the manufacturer with any performance concerns.

BATTERIES ARE NOT AVAILABLE FOR INTERNATIONAL OR AIR SHIPPING.
(48 US STATES ONLY.)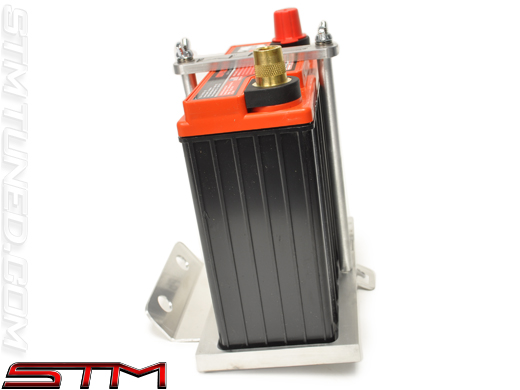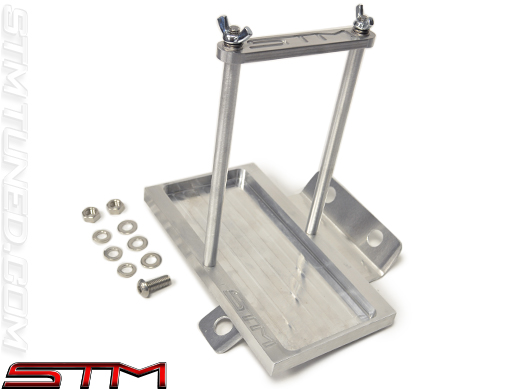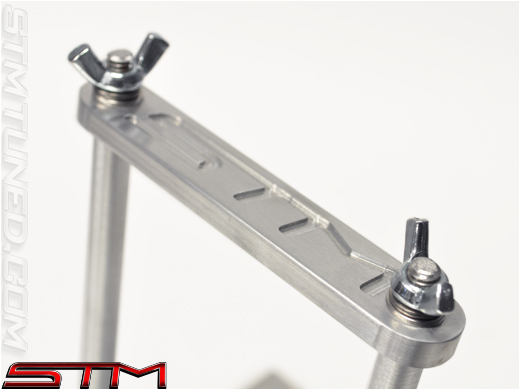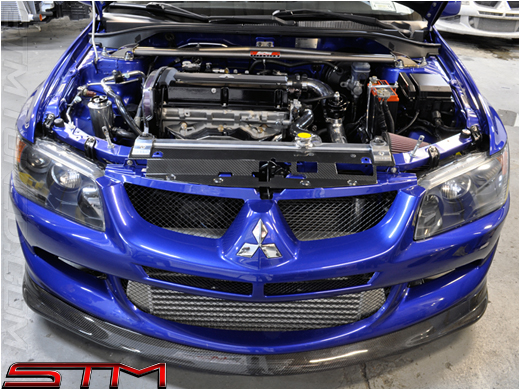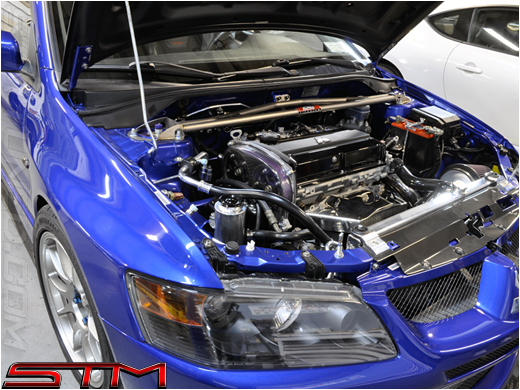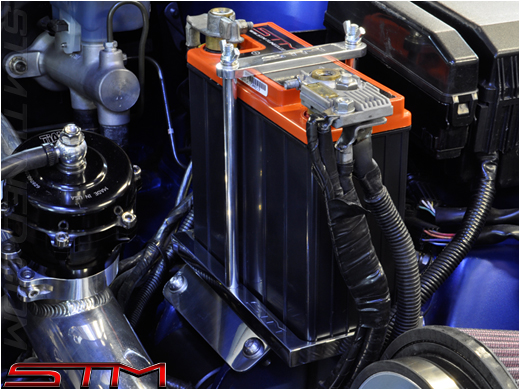 Pictured installed above is the old style, with polished finish.

Optional Lithium Pros C680 Lithium Powerpack for the STM Race Kit.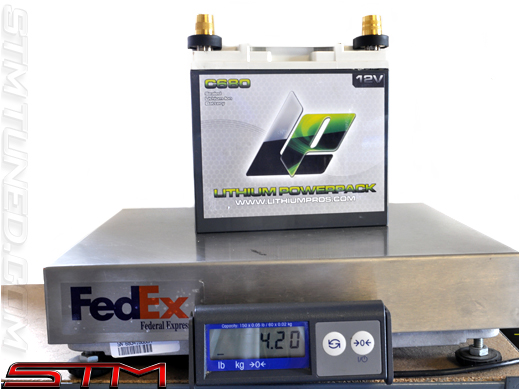 STM-EVO-BATK,STM-EVO-BATKR,STM-EVO-BATKO
STM-EVO-BATK-P,STM-EVO-BATKR-P,STM-EVO-BATKO-P