BUSCHUR RACING 2014 DSM SHOOTOUT
(AKA... THE SHOOTOUT!)
AUGUST 15-17 2014. NORWALK OHIO.
STM's 2014 Trip to The Shootout!

This year's Shootout trip was hectic, as always, but we made the last-minute decision to finish up the STM Evo RS! With only a month and a half to build a race car for The Shootout, and just after moving the entire shop to our new location, we all thought we were going to go nuts! With the long nights and no sleep, after this trip we were honestly just lucky to arrive alive and in one piece!

The RS literally went from sitting in the corner collecting dust, to mega-hype-show-car-build, to 947 HP, to an 8.41@177, to the "Fastest CT9A on Earth!"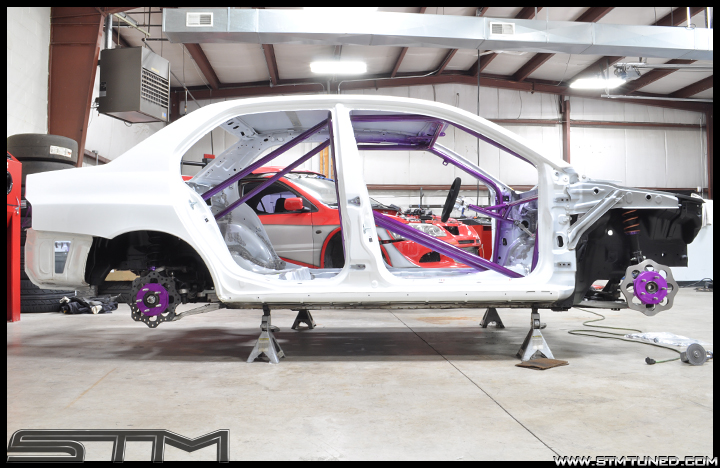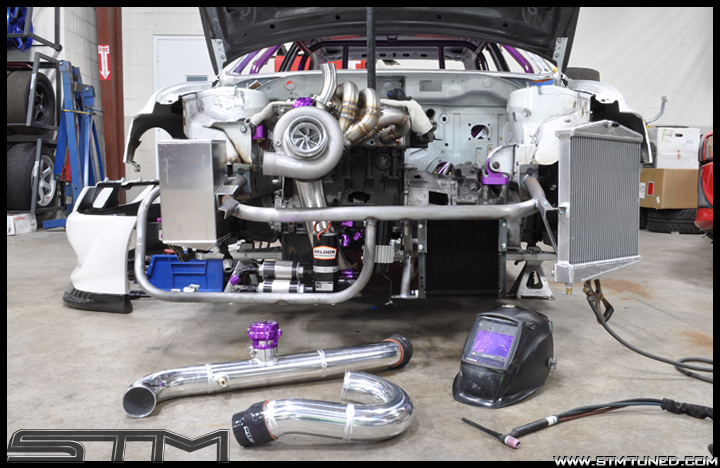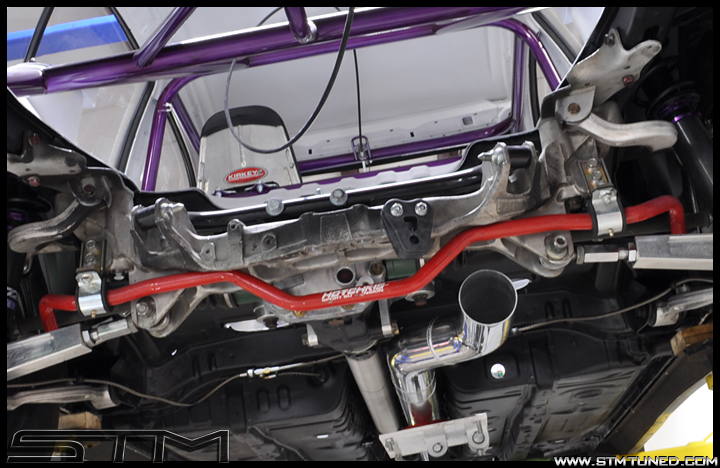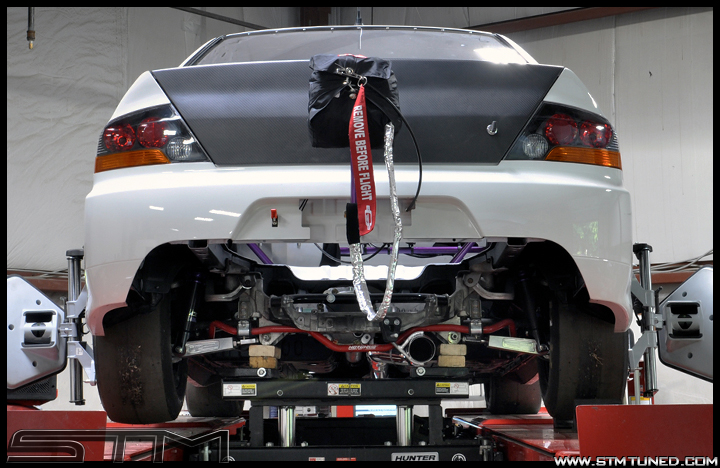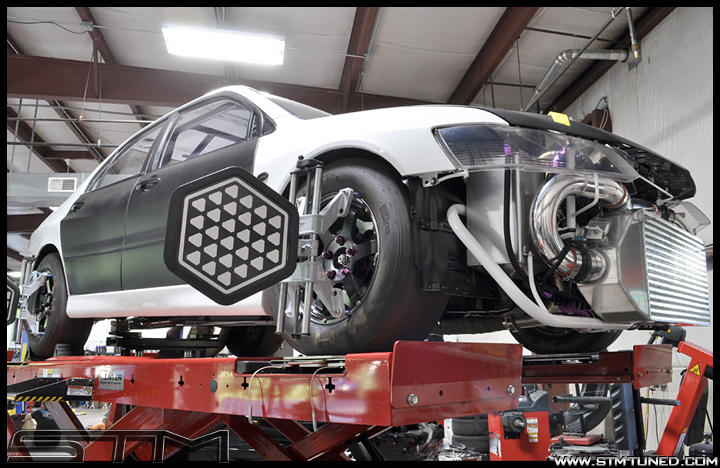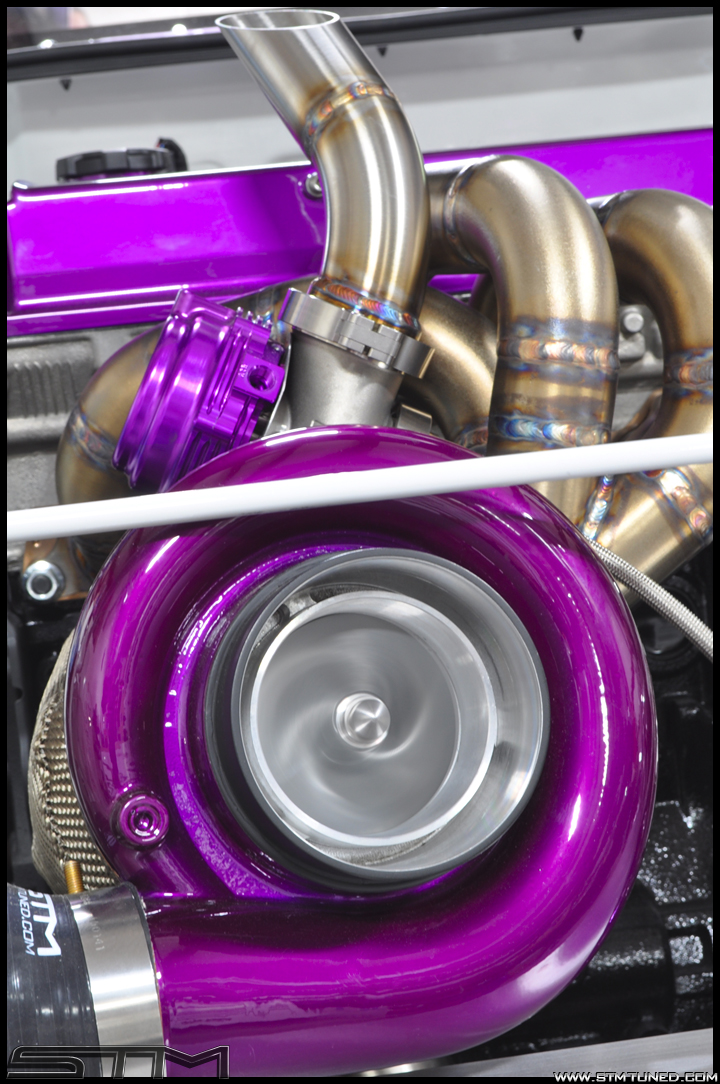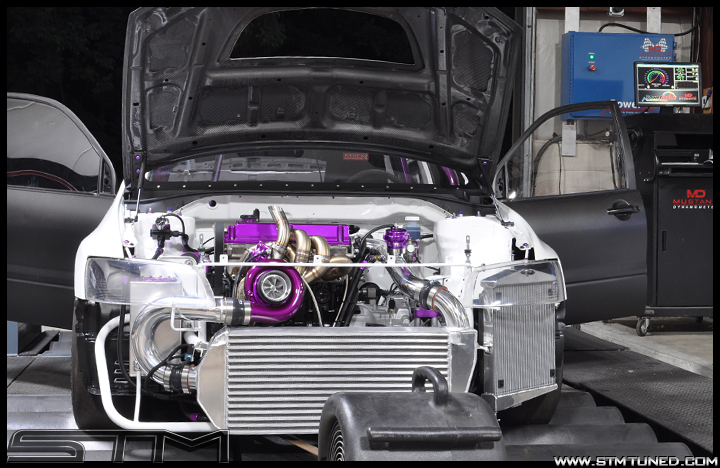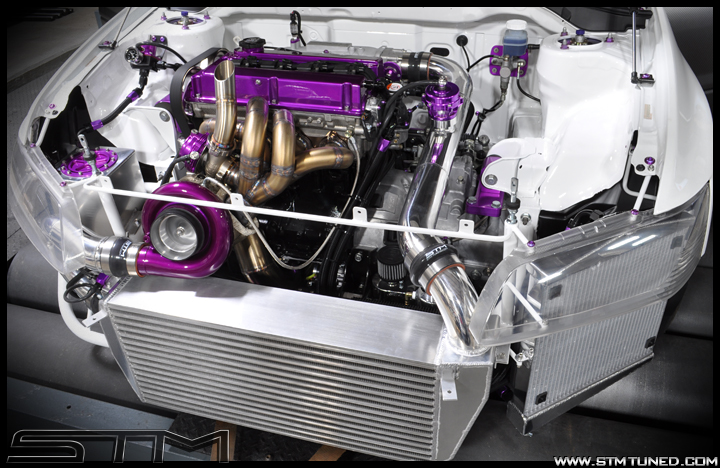 High-Res Photo
Friday at Buschur's we let the RS rip on the dyno and saw 909 HP with about 56-58 pounds of boost, taking the High Horsepower Dyno King for the day.

At the 2014 Shootout, the RS was definitely a big hit! Heads in this engine bay all weekend!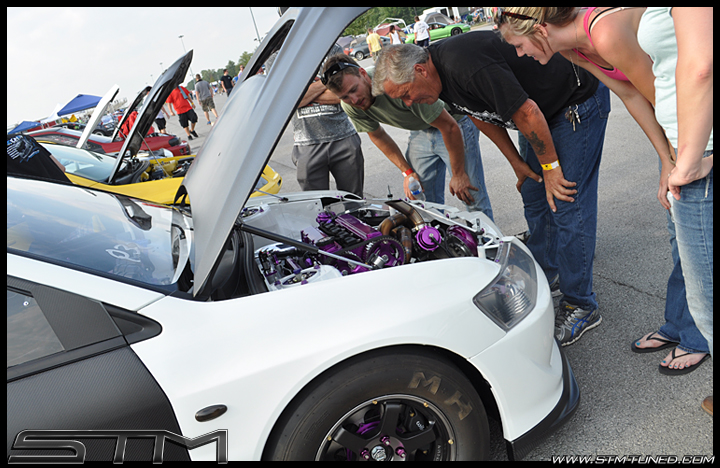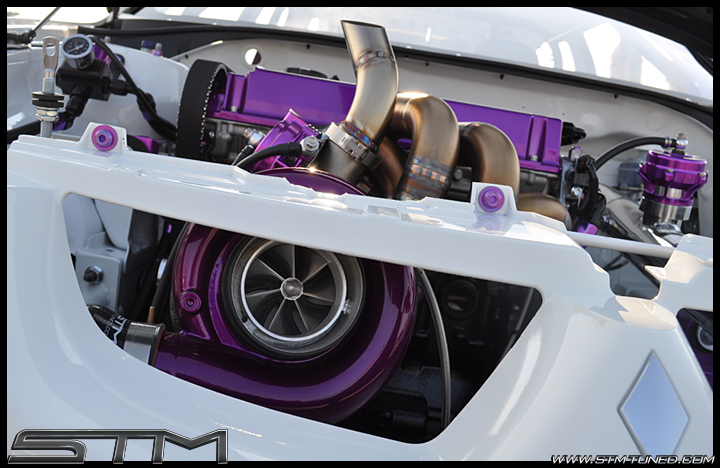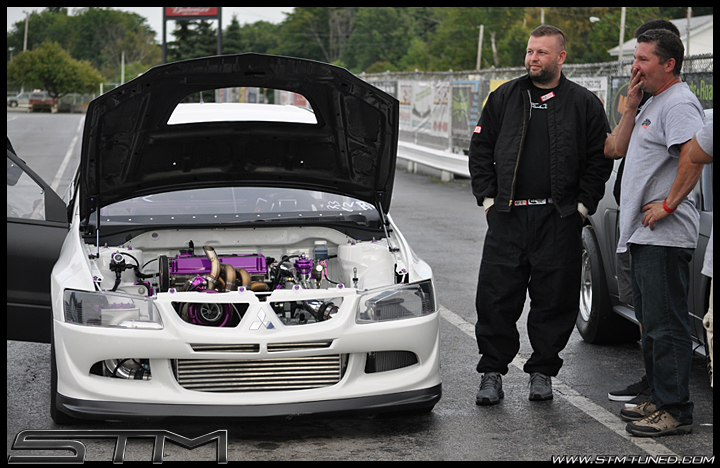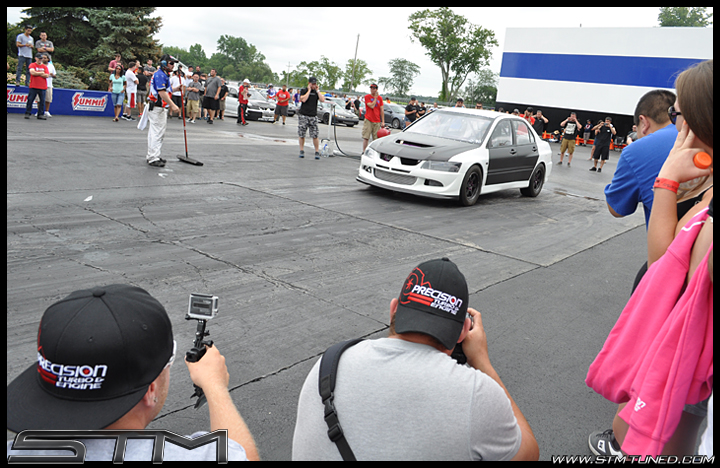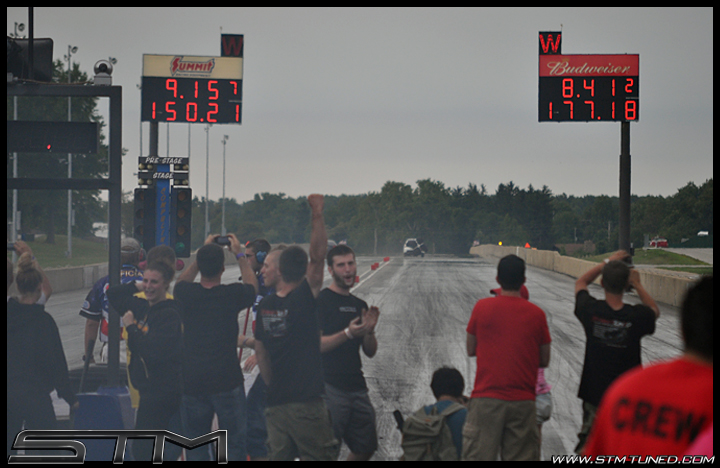 8.41 @ 177 takes the previous 173 MPH CT9A Record and puts STM on top with the Fastest CT9A on Earth! We are missing the "Quickest" title by four thousandths of a second!!

Unfortunately, on that last 177 MPH pass, getting close to 10,000 RPM's, the accessory belt shredded and got wound up on the crank sprocket, between the sprocket and the timing belt... ended up breaking each and every rocker in half!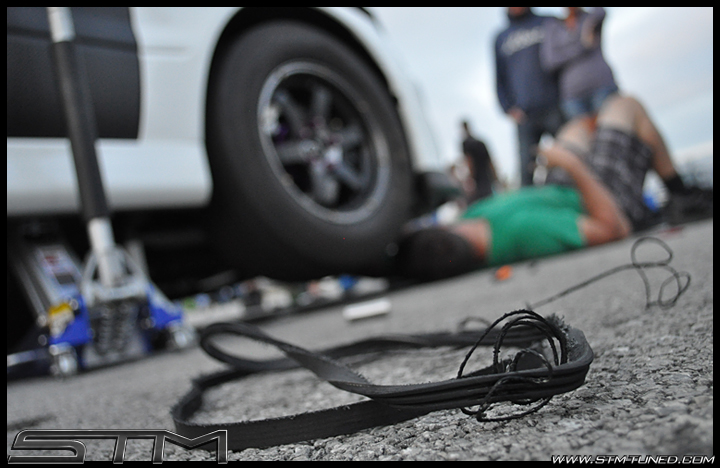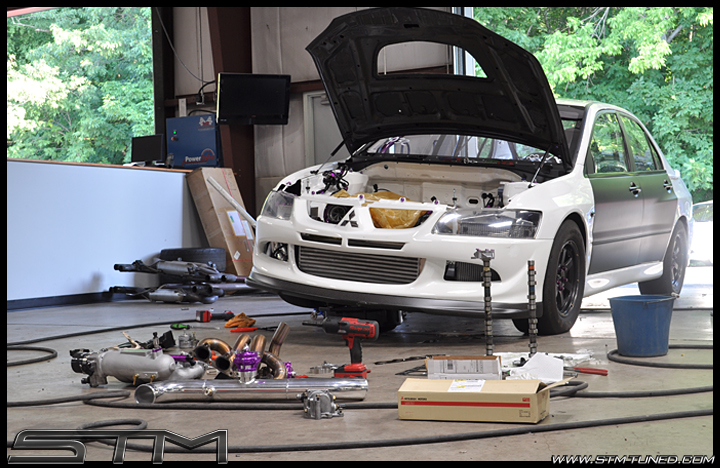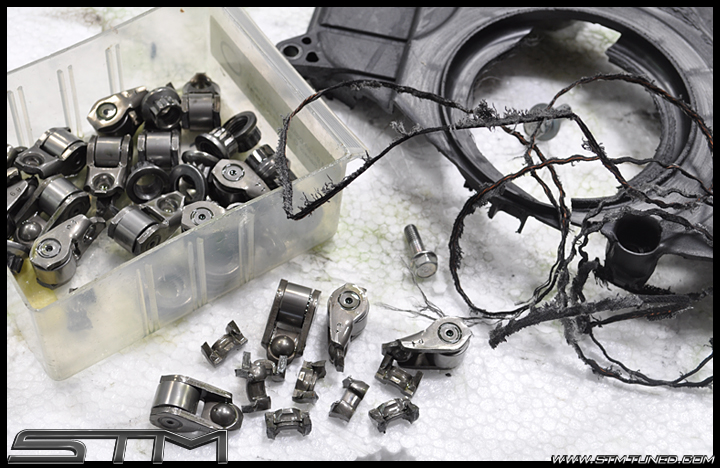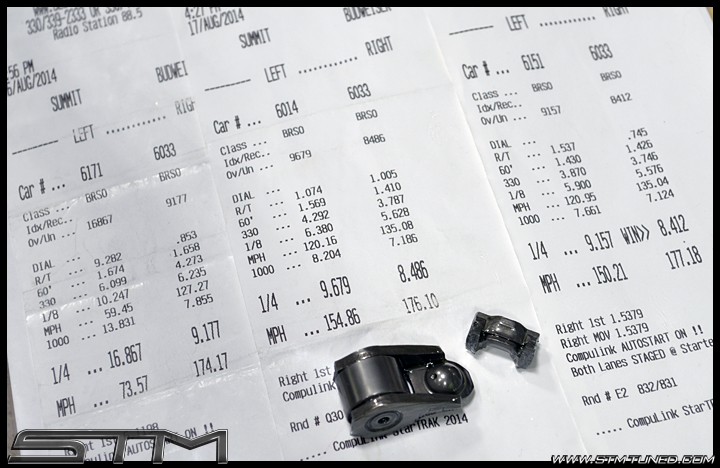 Fortunately, the bottom end of the Buschur Racing Stage 3 2.0 LR Engine looks perfect even after the mishap with the belt, so the BR Stage 3 Cylinder Head is on its way back to David to work his magic and we will be back on the track soon enough!

We set out to build the baddest-ass CT9A we possibly could. With custom-STM-built-almost-everything, we still wanted to make a point that we run a LOT of off-the shelf products. This is, after all, just product testing!

So if you're wondering what to put on your car, and what products produce results... Here's a quick list of the standard, off-the-shelf, bolt-on-parts we run on the Fastest CT9A in the World:

STM Forward Facing Manifold
STM Lexan Windows
STM Ported Skunk2 Manifold
STM-Spec D2 Drag Coilovers
STM Front & Rear Drag Brakes
STM Smoked Side Markers
STM Silicone Couplers
AEM EMS Series 2
AEM Digital Gauges
Aeromotive Fuel Rail
Agency Power Rear Adjustable Control Arms
Avid Racing Motor Mounts
Buschur Racing Coil-On-Plug Ignition
Buschur Racing Stage 3 2.0LR Motor
Buschur Racing Stage 3 Cylinder Head
Buschur Racing Master Cylinder Delete
Carbon Fiber Mirror Delete Panels
DEI Titanium Turbo Heatshield
Dress-Up Bolts Titanium Series
FIC 2150cc Injectors
FP Super 99 Turbo (60 PSI)
Full Blown Throttle Body
Hallman Pro Boost Controller
HKS Cam Gears
Hotchkis Rear Sway Bar
M&H Slicks
Mitsubishi Timing Components
NRG Aluminum Lug Nuts
Prosport Hood Damper
Russell Fittings
Russell ProClassic Line
Seibon Carbon Fiber Doors
Seibon Dry Carbon Hood
Seibon Dry Carbon Trunk
Seibon Carbon Fiber Lip
Sparco Hood Pins
Sparco Carbon 385 Steering Wheel
Shepherd Racing Dogbox
Shepherd Racing Transfer Case
TiAL Sport Q BOV
TiAL Sport MV-R Wastegate
Tilton Clutch
Torque Solution Stubby Antenna
TRE Rear End
Weldon Fuel Pump
Weldon Fuel Pressure Regulator
Valve Cover and Turbo Powdercoated by Justin @ Detective Coating
Volk Racing TE37 Wheels

As with everyone's sleepless, hectic adventure to Ohio, during the drive out there, our convoy encountered a piece (a giant hunk, one could say) of metal on the expressway... The "landing gear" from a tractor trailer managed to find its way under Brad's GSX, rip his exhaust off, put a hole in his driveshaft and exit... only to immediately get up under Austin's Corvette and lodge itself into the LS6 oil pan, spilling a 500 foot trail of fresh Royal Purple. The trucks and trailers hauling the STM RS and Paul's 9 second Evo hit and crushed the remains of Brad's beautiful exhaust... Luckily for us all, it was a lightweight STM Aluminum Exhaust and the tires crushed it. Had it been thick, stainless steel... who knows?


Austin's Vette unfortunately went home on a flat bed and we will save that rebuild for another story, but the DSM crowd will never cease to amaze! One of our friends was on his way to the rescue with a replacement driveshaft... and HIS Eclipse broke down on the way from Buffalo! Poor guy! So all the DSM's hopped on flatbeds and we arrived safely in Ohio, where yet another DSM'er came to the rescue with a driveshaft and the swap was made and "Layla" made it safely to the 2014 DSM Shootout and home!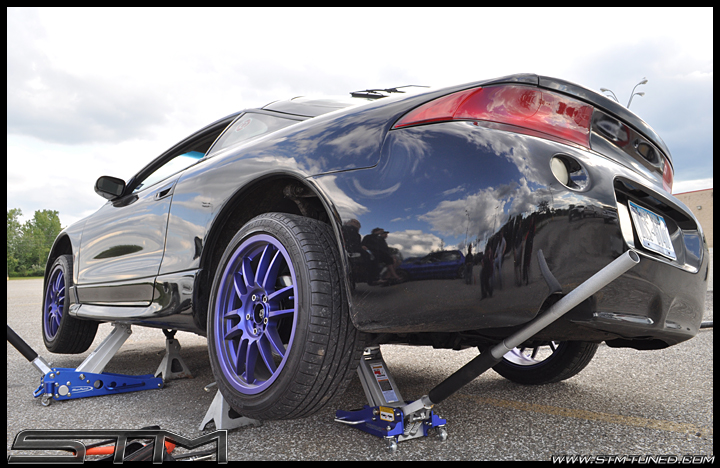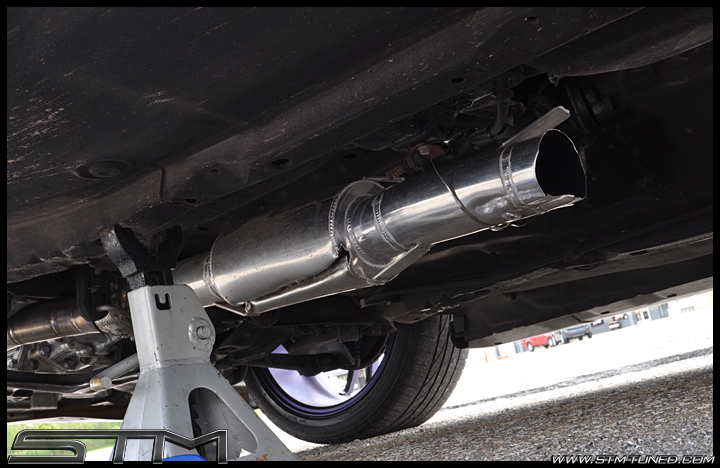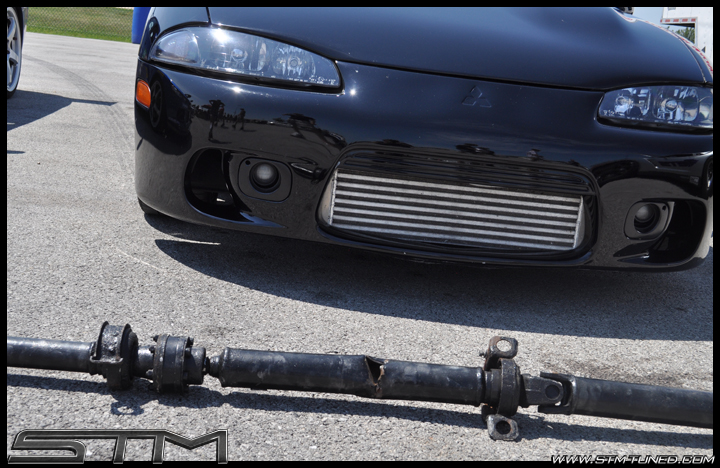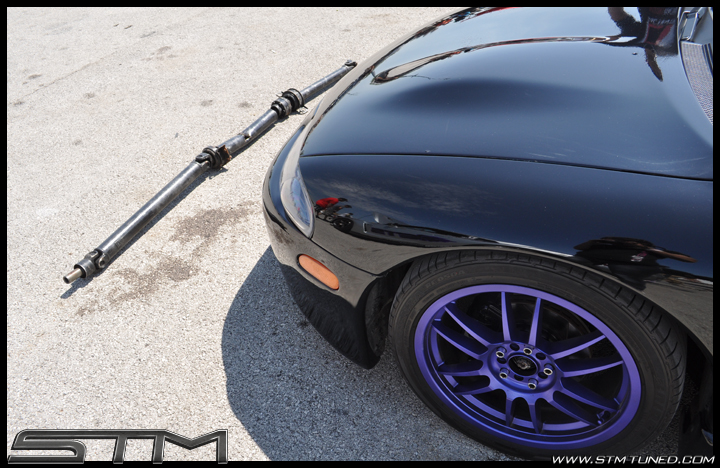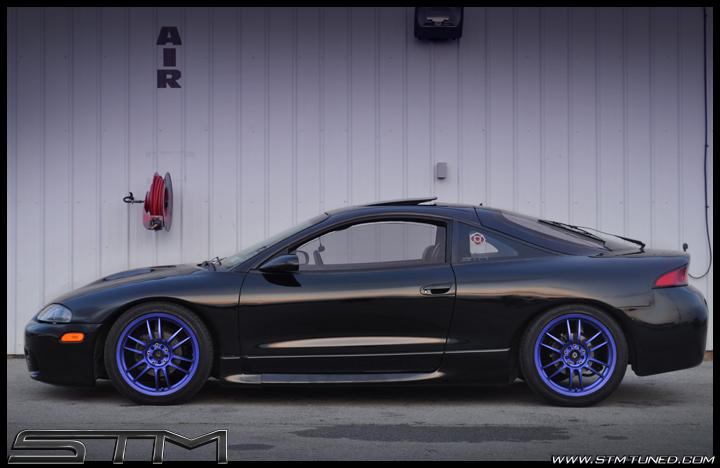 High-Res Photo
Our story isn't done yet! Jesse Ford. Striking fear into the hearts of Stock-Appearing Evo Racers since 2011!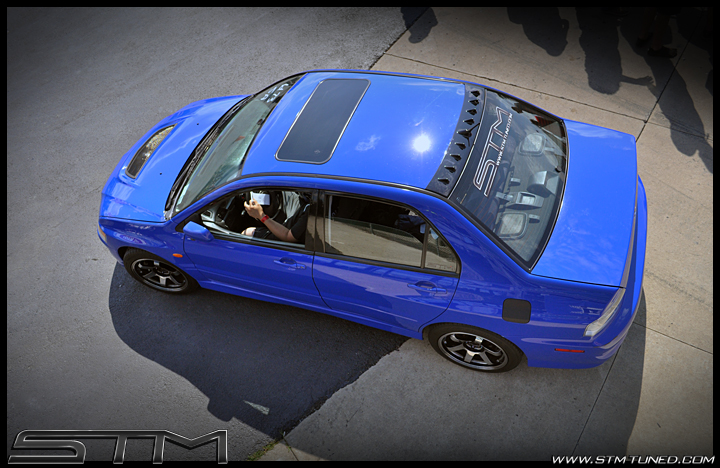 With four Shootouts and four trophies, the Blueberry has tested and tried the stock turbo, and year after year, Jesse Ford had out-treed and out-raced many an opponent, always returning home with a trophy! This year was no different, but equipped with a new FP HTA71, he had an extra 40 HP and a much better power-band to use.

But it wasn't all sunshine and daisies for us here either! Banging gears to keep up, Jesse popped the clip... and so the parking-lot-transmission-swap begins!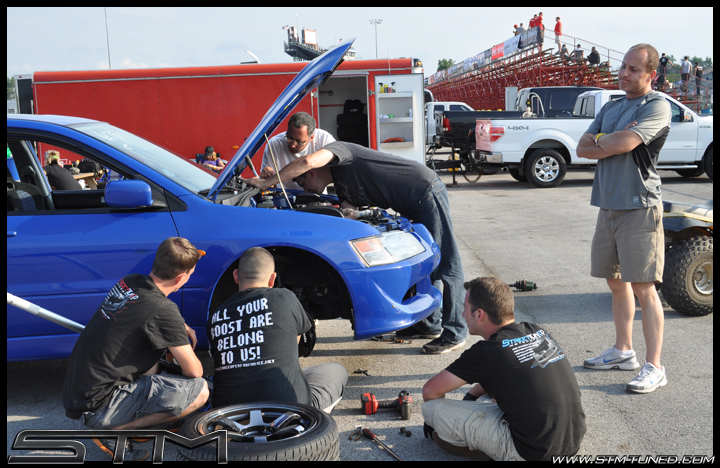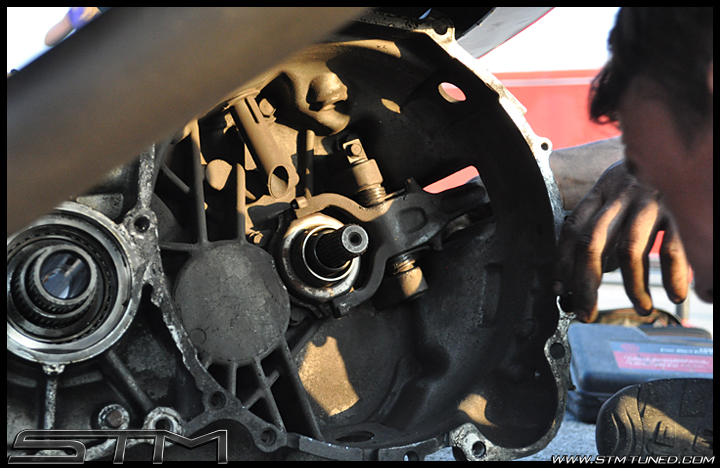 Now fitted with a new ACT Monoloc, but still missing our usual teammate Brandon Mastrodondo and his 570 HP, FP-Red powered EB VIII, Jesse raced his way to the finals and was pitted against a very fast, 9-second, 140 mph, yellow Evo!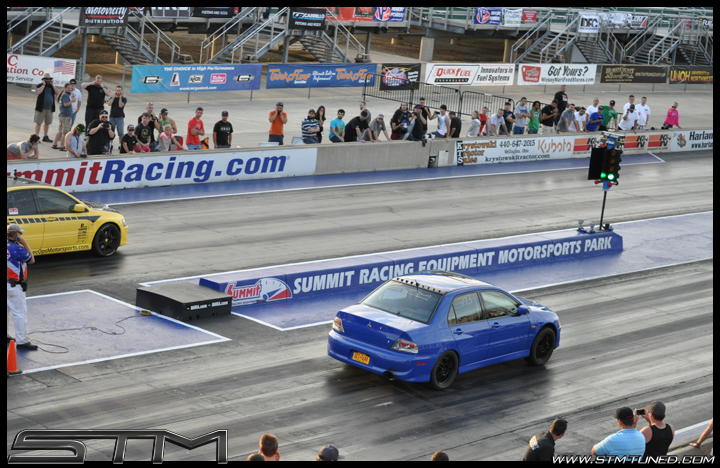 Regardless of his fantastic driving and on-point reaction times, taking down a car that is a full 2 seconds quicker and 20 mph faster is a difficult deed! But a trophy is a trophy!! And safely home we went!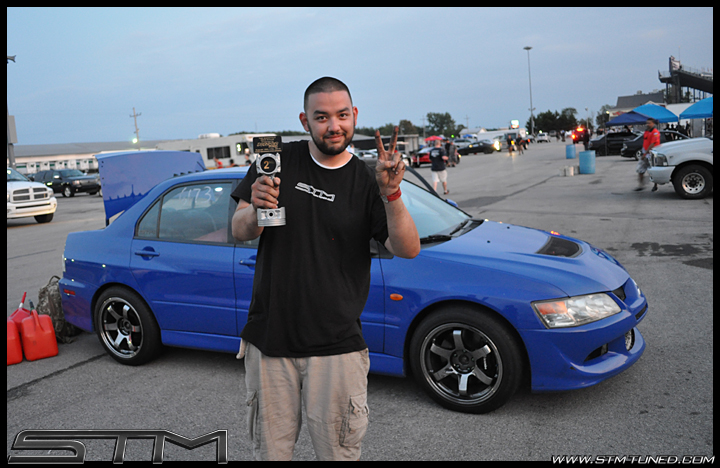 Paul's stunning, yellow Evo made its debut with a quick photoshoot with DSport magazine, showing off his fresh build with the STM forward-facing turbo kit, polished manifold, Buschur 2.0LR, and the custom STM cage. With an STM tune of 813 HP, and his first few times down the track, the TurboTaxi yielded a 9.5 @ 159! Not bad for a street car!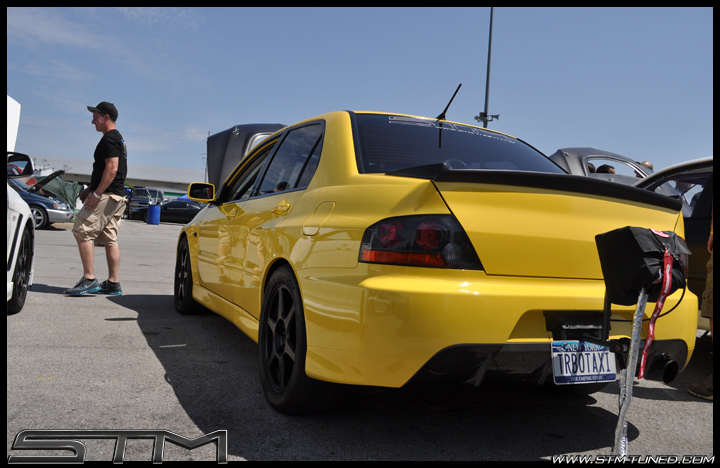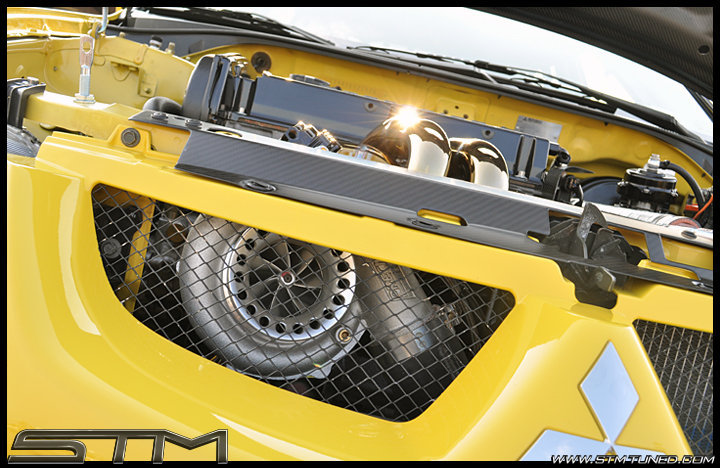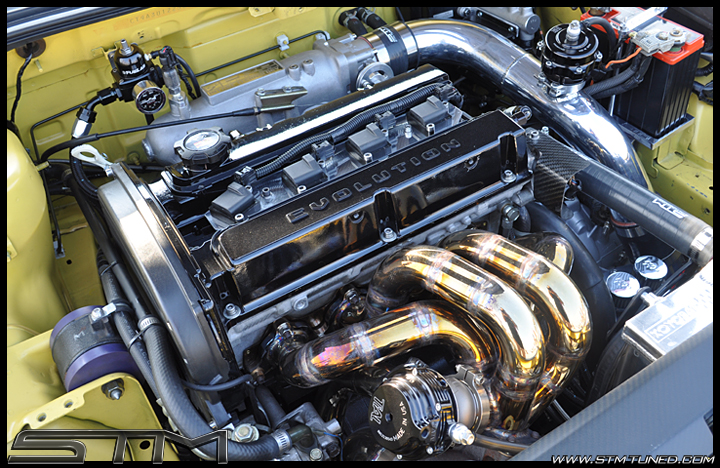 As always, it was a great event! Huge thanks to David Buschur and his entire crew for putting on this show, year after year, and a big thanks to the Summit Racing track for being so accommodating and for scooping their massive bowls of $1 ice cream!!

The DSport Magazine crew is always on scene for this event and we all look forward to seeing the event coverage and DSM's gracing their beautiful pages!

The new layout of the parking and vendors was awesome this year! It was great to see new products first-hand, and to meet a lot of you in person! It's mind-boggling what a simple handshake can turn into in this industry.

Here's a couple of our favorite shots from the weekend: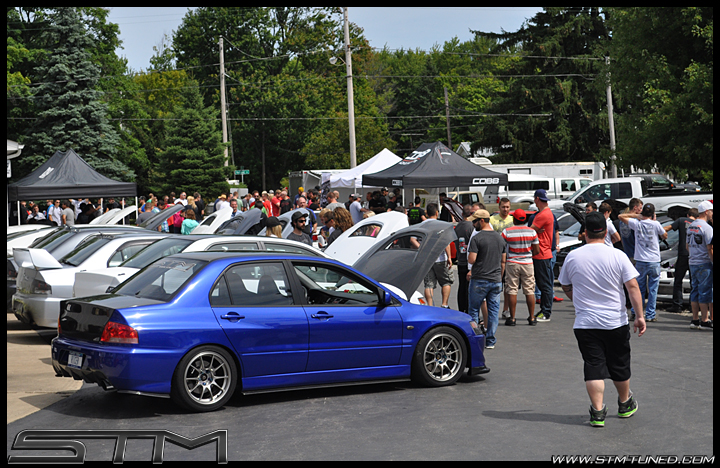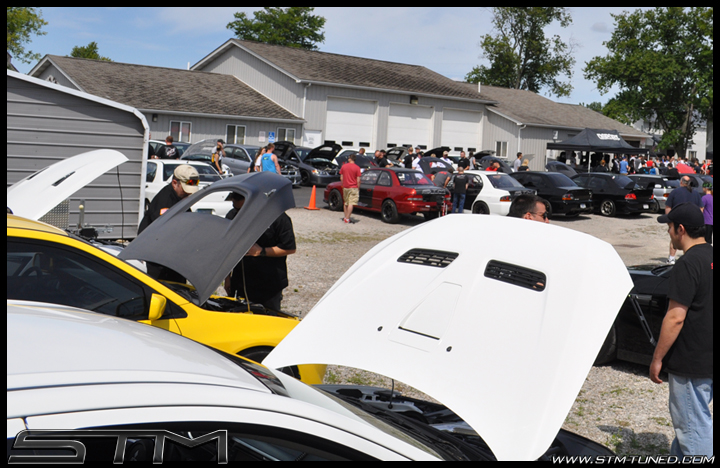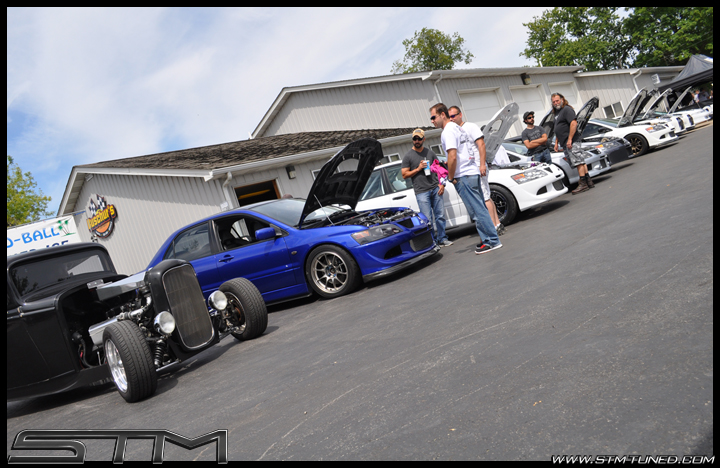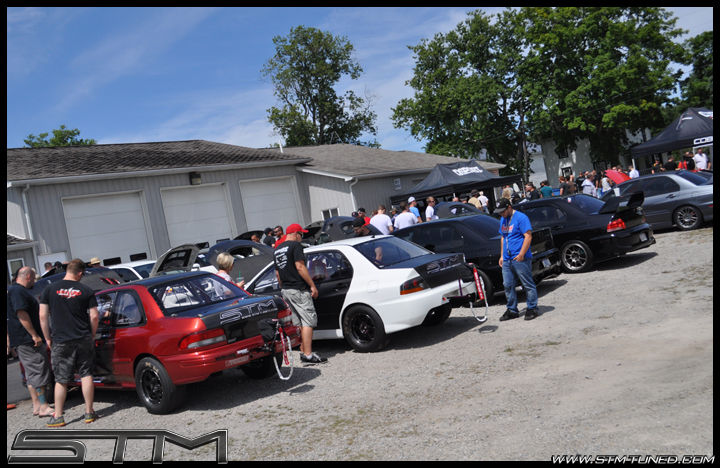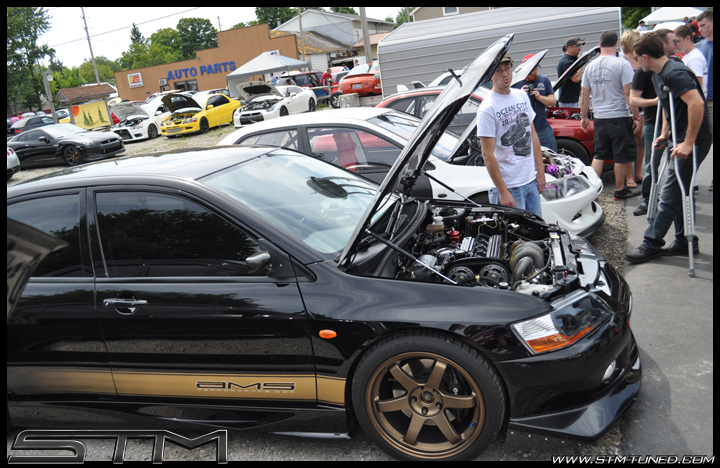 The Dyno Day at Buschur's was PACKED!! It was a gorgeous day and the STM crew was relaxing under the tent and slinging parts as usual.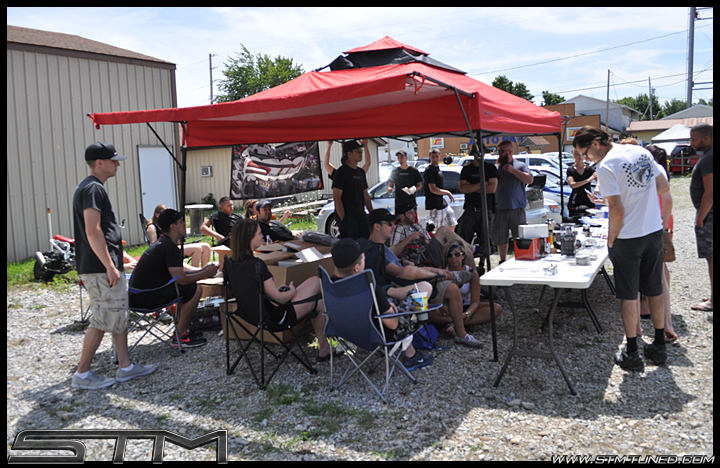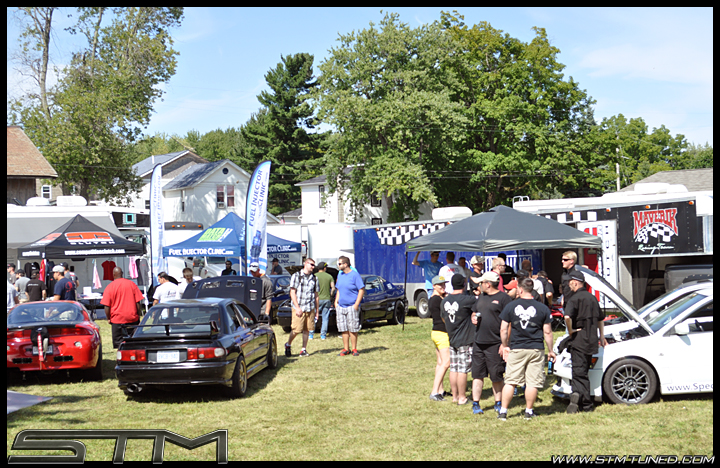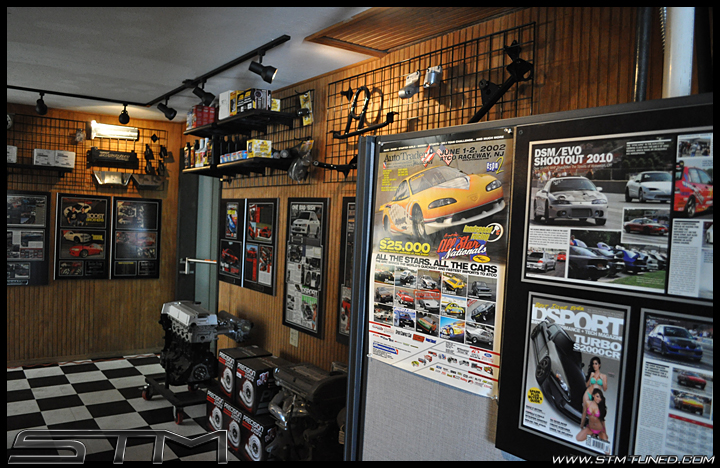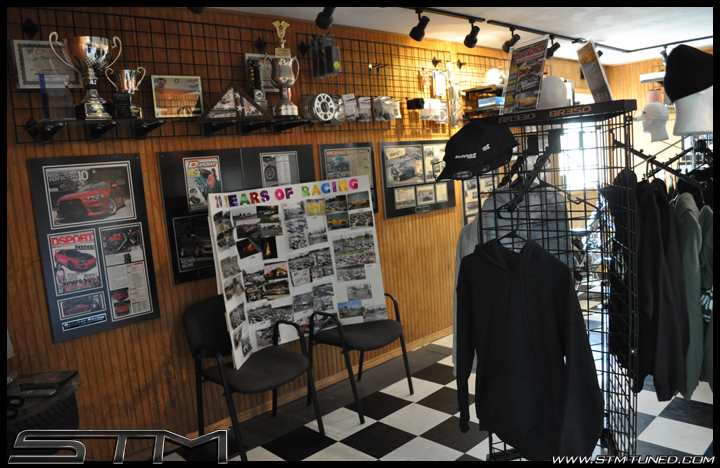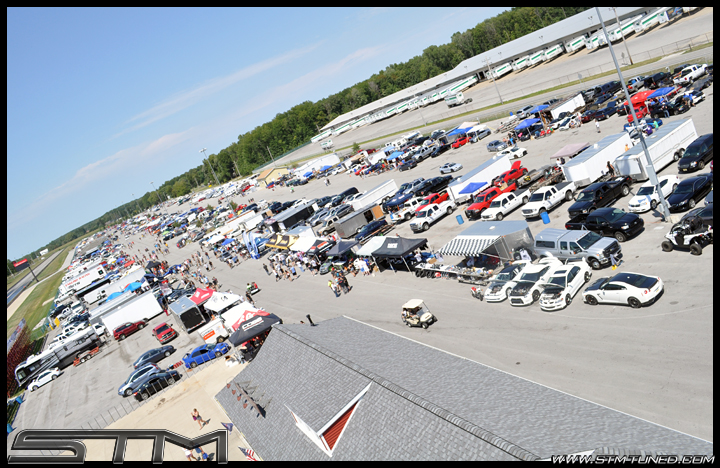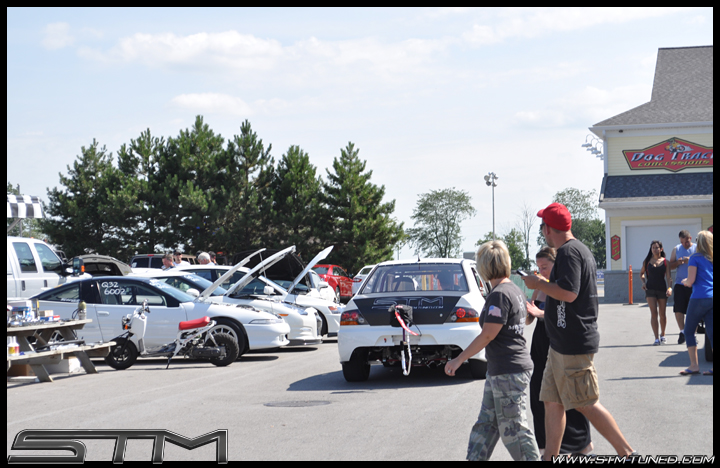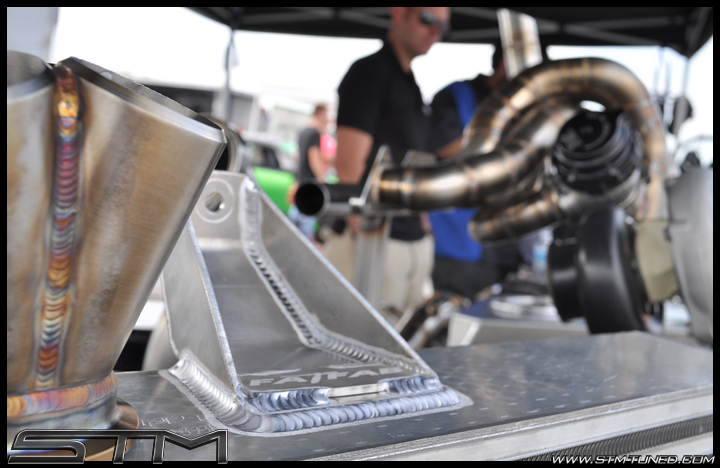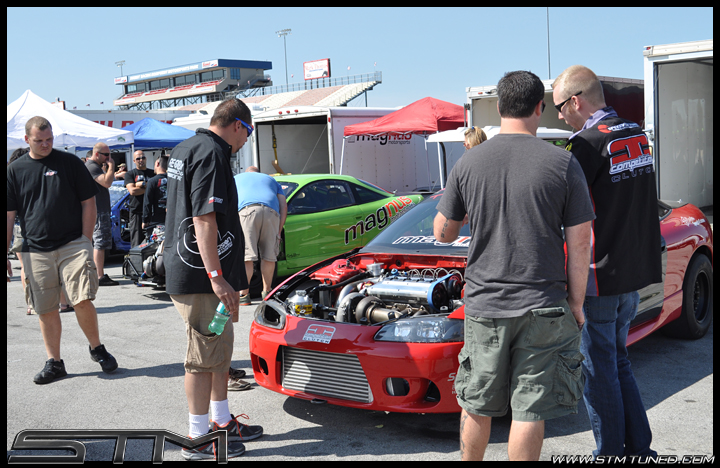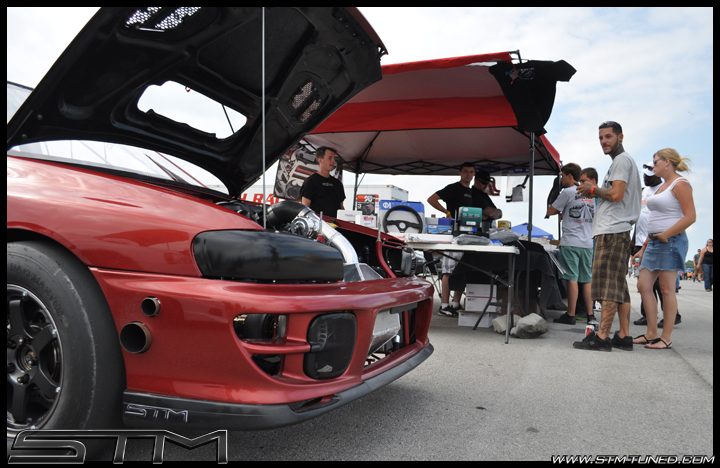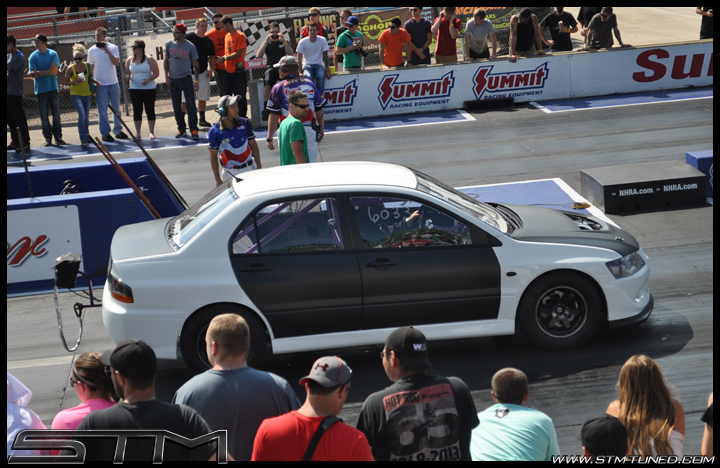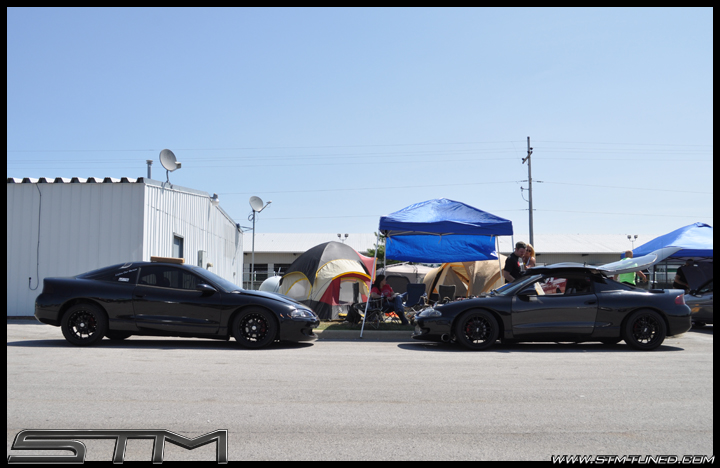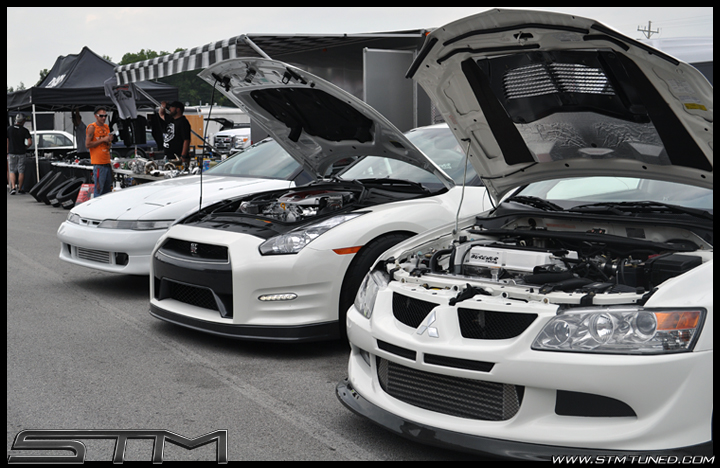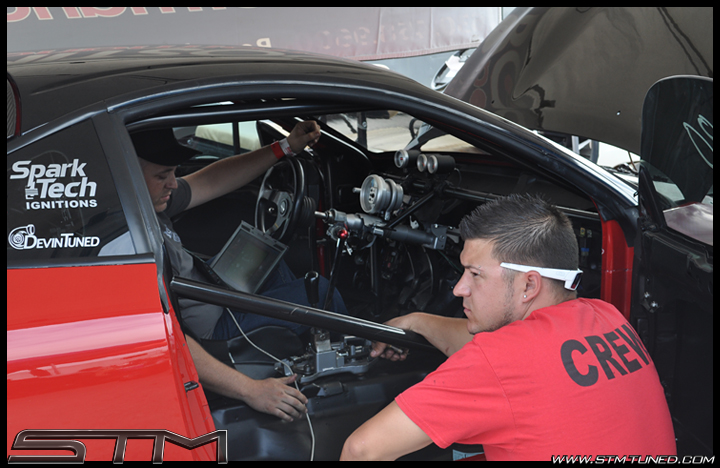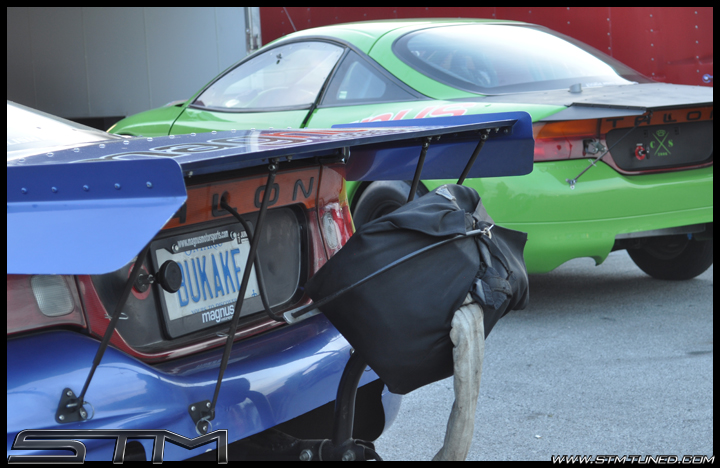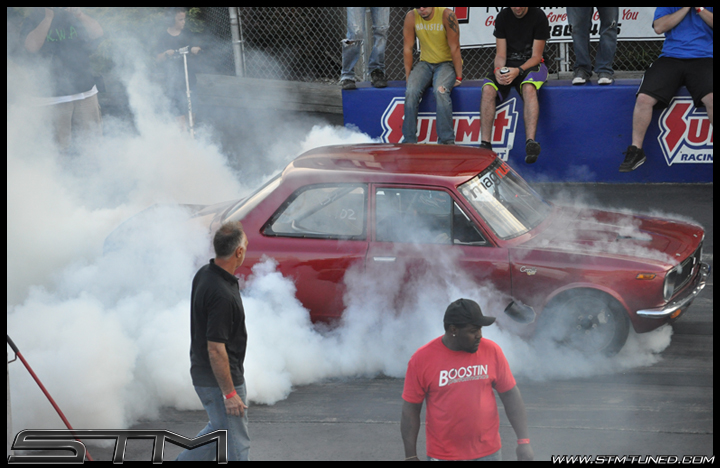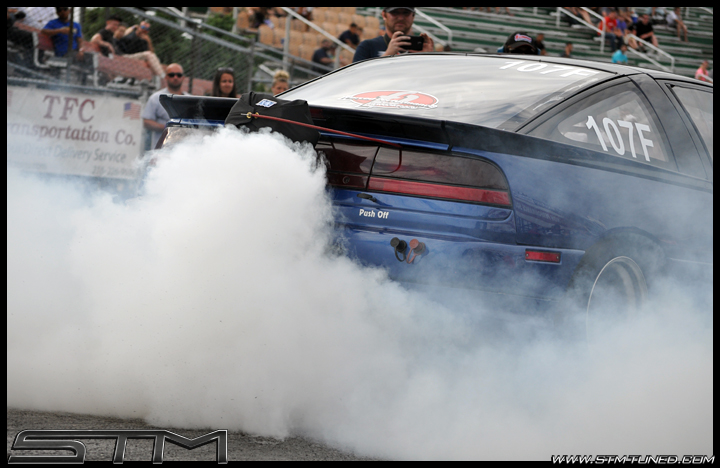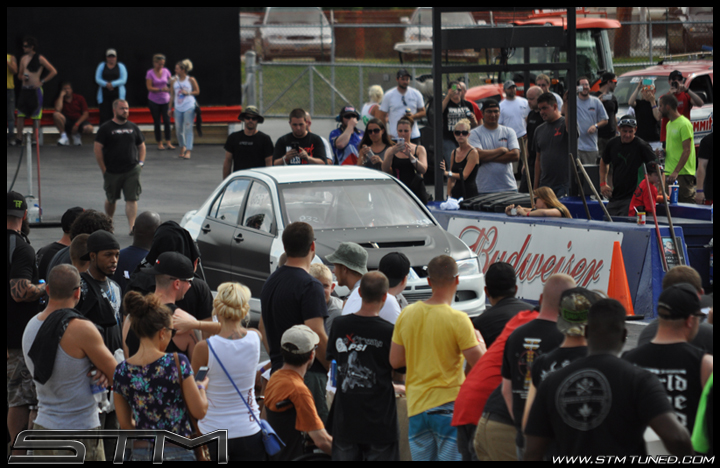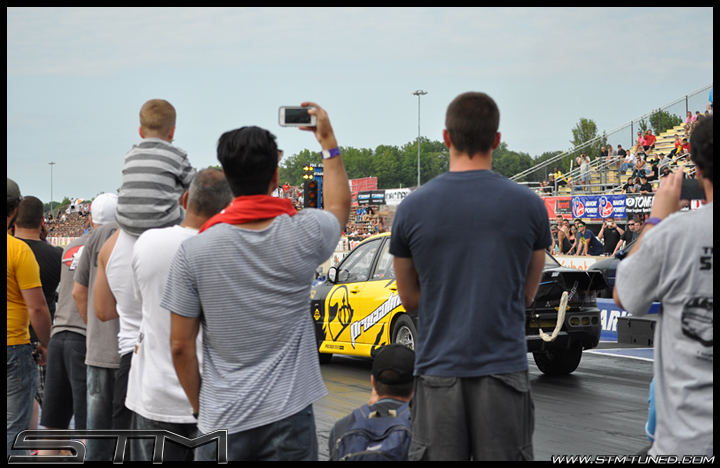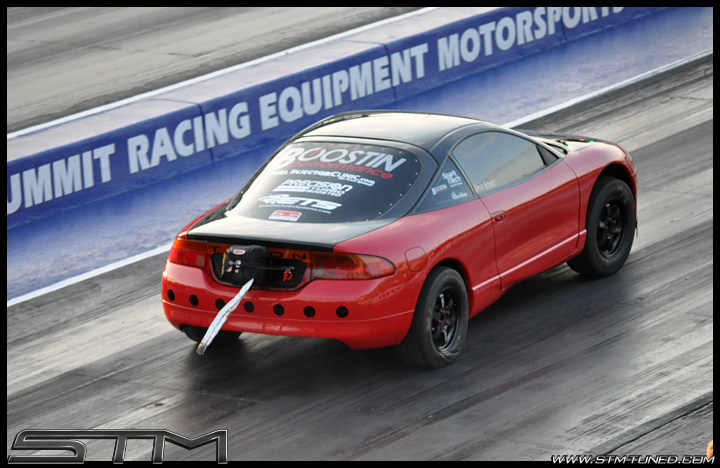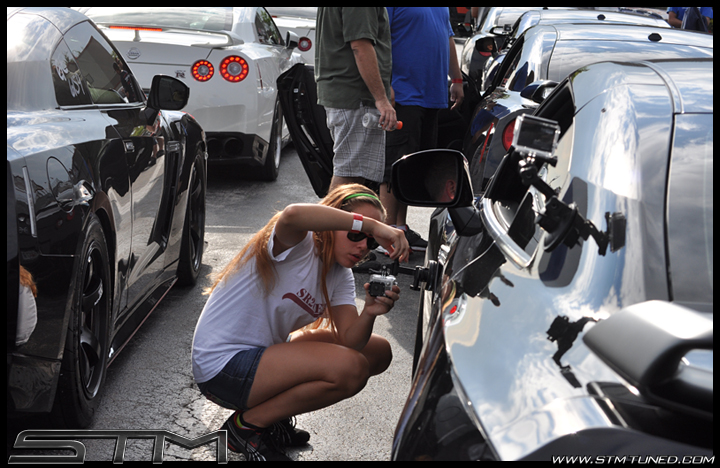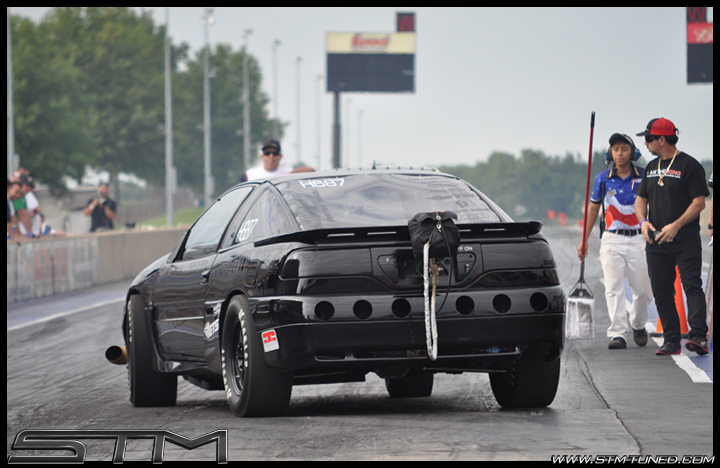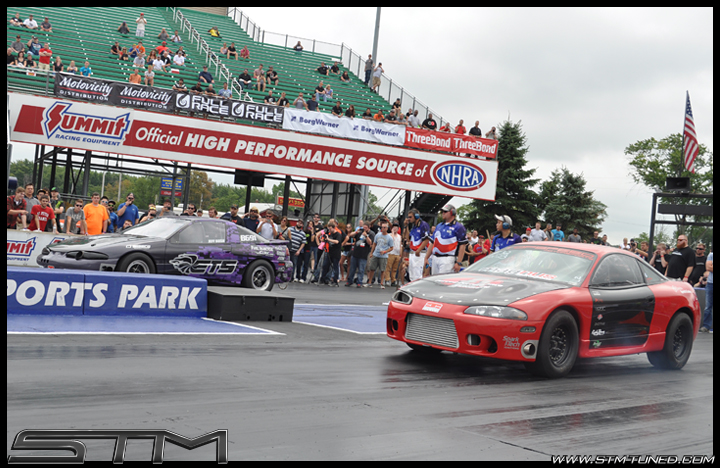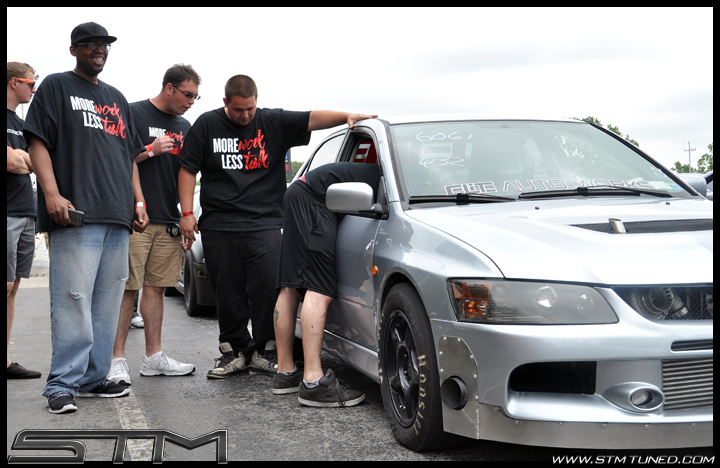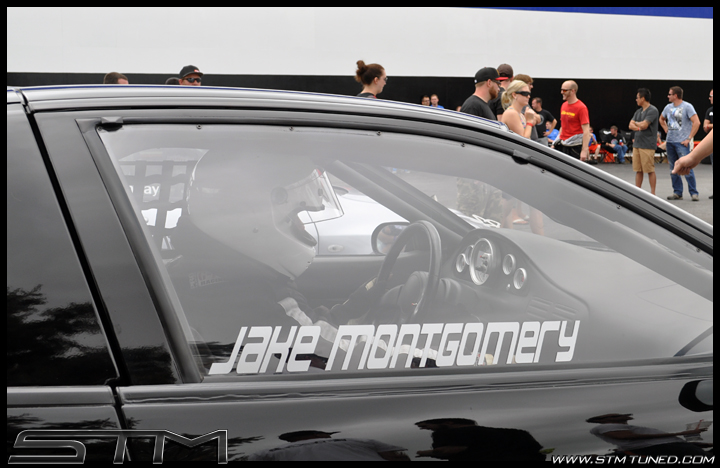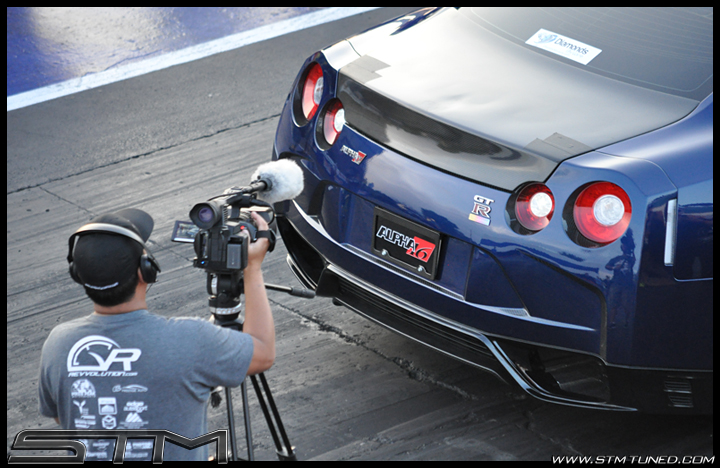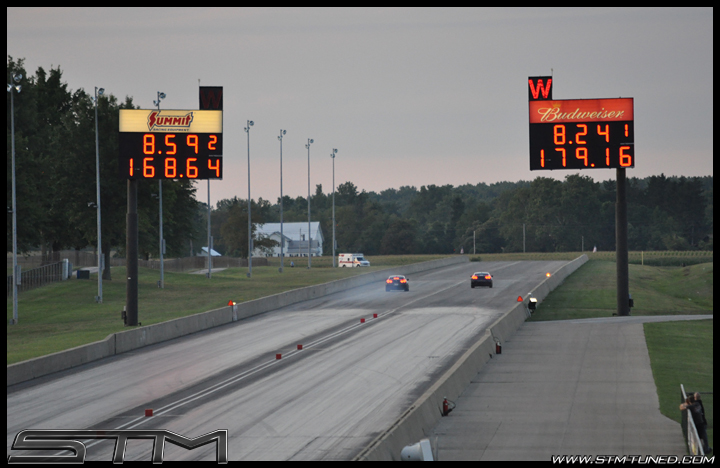 Once again, thanks to everyone who drains their bank accounts and risks their relationships to make it out to this event! We all know, we all do it... and we all love it!

Check out our gallery on Facebook for all 289 photos! Your car is probably there! Tag your friends!

Stay tuned for 2015 build threads as we assemble the STM DSM army of Cory's EvilTSI and Eddie's white GSX!